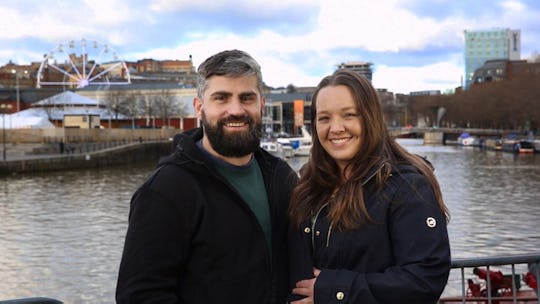 TLC
Jon's Criminal Record On '90 Day Fiance' Has Rachel's Friends Concerned
Jon and Rachel consider their story a fairytale — and it certainly is in some respects. Unfortunately, unlike a fairytale, they have some real obstacles to overcome. Seeing as it prevents him from coming to the U.S., what is Jon's criminal record on 90 Day Fiancé? It may jeopardize their relationship.
In an episode of Before the 90 Days that aired earlier this month, Jon opened up to Rachel about his criminal past. Jon explained that he got into fights when he was younger, but he never set out to start a fight. When others became violent with him, he would fight back. He told Rachel, "When I was young, I grew up in not a great area, having to choose between being stamped on or fighting to get away. And when I felt people wronged me or saw things I didn't like, I acted. And some of the times I got into a fight with multiple people."
That's not all he told Rachel. Apparently, he was in 50-60 fights, and five of those fights led to convictions. He described the worst conviction: one that happened while he was a student.
I was at uni and I'd been out with some friends. Stuff escalated and I ended up punching a group of guys in the face. Why? It's a group of guys. They get a few drinks inside of them, they think it's acceptable to say disrespectful things to women and they think they're untouchable because there's a big group of 'em. I got really mad and they tried grabbing me, and by the end of it, they all got punched. They arrested me, and I was convicted of bodily harm without intent — which basically means, he did sustain an injury.
Rachel accepts Jon's past and hasn't let it affect their relationship. The trouble lies with Jon trying to come to the United States. Prior to Rachel going to England to meet him in person for the first time, Jon actually attempted to visit Rachel in New Mexico. Due to his record, though, he was denied a tourist visa. This is a sticky situation, because Rachel can't just pack everything up and move to England with him. Rachel shares custody of her elder daughter with that daughter's father, so she can't bring her along or leave her.
In the latest episode of Before the 90 Days, Rachel described her and Jon's current plan. Now in New Mexico several months after her two-week trip to meet Jon, Rachel is planning their wedding to take place in England. How they're going to be together is still up in the air, so Rachel and Jon got the help of an immigration lawyer. Sadly, the lawyer didn't have an easy solution for them. While Jon could get an immigration visa and eventually qualify for a green card, it may end up being a three-year process. Rachel and Jon being married may make it easier for Jon to enter the country now, but that's still a long time for them to be apart.
Despite this problem, Rachel and Jon seem to be set to get married. In the latest episode, for example, Rachel went wedding dress shopping. Their plans to get married in England checks out with the marriage certificate from Jon's home county of Cornwall that Starcasm found a couple months ago. While fans don't know how Rachel and Jon plan to live post-marriage, it's probably safe to say that they do indeed get married. Hopefully in subsequent issues they explain how they are together (or if they're currently long-distance), Jon's past and all.