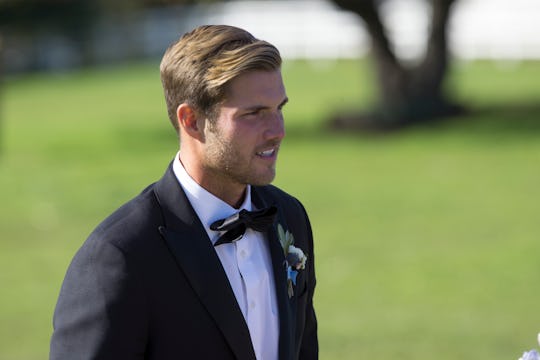 Paul Hebert/ABC
'Bachelorette' Contestant Jordan's Instagram Is Really Something
Oh, Jordan. As the weeks go by, I ask myself why Jordan, this season's official "villain," is still on The Bachelorette. But since filming is long over, what is Jordan doing now? The Bachelorette contestant ruffles a lot of feathers on the show, so I wonder what life is like now that it's over.
In case you didn't pick it up by the amount of times he says so, Jordan is a male model. According to his ABC biography, Jordan is from Crystal River, Florida. "A former Business/Accounting major, Jordan turned his good looks into a professional modeling career," the bio proclaims. We know.
The bio goes on to hype up Jordan's athletic prowess, "When he's not posing for magazines shoots giving his best 'pensive gentleman' look, Jordan enjoys kayaking and running. With a personal best mile time of 4.24 Jordan's excited to sprint to the finish line with the Bachelorette." But Jordan hasn't been quite as vocal about his athleticism on camera as he has about his modeling.
Jordan didn't hesitate to say that he is a Wilhelmina model — so he is legit. Prior to The Bachelorette, Jordan worked in photoshoots such as a pseudo-engagement shoot for Lavish Design and Events, as well as a catalog cover for John Craig.
So what's Jordan up to now, then? According to his Instagram, he's wearing Quay sunglasses, carrying around weekender bags and iced coffee, and giving the camera the "pensive gentleman" look. It doesn't seem like anything's changed for him. While it's not confirmed or denied yet, I wonder if Jordan will be on the upcoming season of Bachelor in Paradise. He's certainly the perfect contender for it. I mean, imagine if he's in the same room as Krystal from Arie's season of The Bachelor. They'll either annoy each other off the show or fall in love. No matter the case, I hope The Bachelorette isn't the last time Bachelor Nation will see Jordan, especially with his blue steel and made up words. His "professionality" would definitely be perfect for Paradise.
On The Bachelorette, Jordan seems to be more interested in telling everyone how great of a model is as opposed to how much he loves Becca. Multiple contestants at this point, including David and Colton, remarked that Jordan is here to boost his modeling career, which based on his Instagram account appears to be doing swell. But it seems that he's also here to boost his... Tinder profile? After a group date, Jordan boasted that he received a notification from Tinder that he received 4,000 matches in 2017. On top of that, he apparently has a 100 percent success rate.
This sounds wildly fake to me, and it also raises a few questions. Why would Jordan lie about something like that? To impress the other guys? Because it certainly doesn't impress Becca. Secondly, if it is the truth, why would he go around talking about it on a show where he's supposed to be falling in love with Becca? Basically, Jordan has had many bad looks already this season beyond "pensive gentleman."
Now, it looks like Jordan's antics have gotten him into a 2-on-1 date with David. It's "the model vs. the chicken," and only one will leave the victor. But the fact that they're on a 2-on-1 signals to me that neither will win Becca's heart. Sure, one will leave sooner than the other, but I have a feeling Becca has her sights set on some of the other men, like Blake (oh wait, that's me). In any case, I don't think Jordan will be placing a Neil Lane ring on her finger anytime soon.