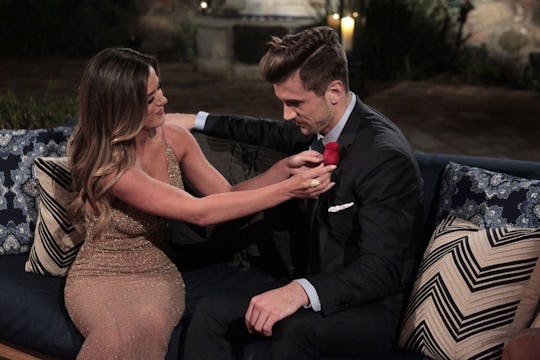 Rick Rowell/ABC
What Is Jordan Rodgers' Net Worth? The 'Bachelorette' Contestant Is Doing Well For Himself
Jordan Rodgers made quite the impression on the premiere episode of The Bachelorette Season 12, even snagging himself the first impression rose after sharing a smooch with JoJo Fletcher during the first night. It's looking like he might be the guy to beat considering the odds are really in his favor: JoJo liked him immediately, and his off-camera connections got people talking even before the season started. A lot has been made of Jordan's super famous brother Aaron Rodgers, but Jordan is pretty successful in his own right. You might be wondering just how successful he is – in dollars, specifically. What is Jordan Rodgers' net worth on The Bachelorette?
According to the the-net-worth.com — which isn't necessarily accurate, but it's a good place to start — Jordan's net worth is nothing to sneeze at, coming in at around 1.5 million dollars. Like his brother, Jordan made his money as a professional athlete, though he has since retired. While it looks like Jordan might be after a career change now that he's left sports behind, he still took home a pretty penny from his days playing football. Jordan started off playing football in high school and continued to do so in college, attending both Butte College and Vanderbilt University before turning his attention to professional football after graduation.
Jordan has been signed to several teams throughout his football-playing career, starting with the Jacksonville Jaguars in 2013. He signed on with them as an undrafted free agent, which meant he could go on to sign with any team he wanted if they didn't pick him up. According to NJ.com, the "rookie minimum" for an undrafted free agent signed to a three year contract is generally around $435k with yearly increases. That may not be the exact number in Jordan's case, but it gives a fair assumption of what his starting salary might have been.
Jordan moved on quickly, however, signing with the Tampa Bay Buccaneers, the Miami Dolphins, and the BC Lions over the course of a few years (2013-2015, when he retired). In each case, he was signed to the team's practice roster. SBnation.com said that, as recently as 2015, "practice squad players can make no less than $6,600 per week," though The-net-worth.com claimed Jordan's annual salary was around $500k. Spotrac, a website devoted specifically to listing sports team contracts, has a rundown of Jordan's Miami Dolphins contract, which the site lists as earning him $420k a year.
Assuming Jordan's annual salary was somewhere in that range, and not taking into account anything besides his official job, that would land him at over a million in earnings over the last few years. While it may not be the crazy high numbers usually associated with professional football, it's still definitely a nice chunk of change.