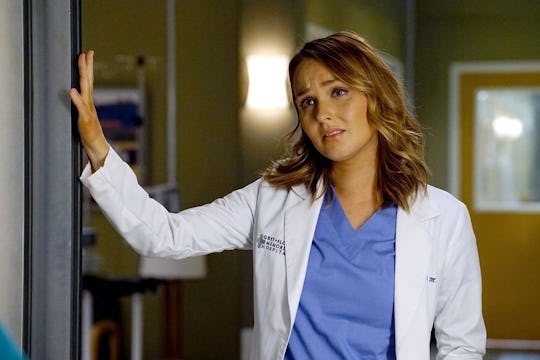 Richard Cartwright/ABC
What Is Jo's Real Name On 'Grey's Anatomy'? She's Keeping It A Secret
At the end of Season 12 it was revealed that the reason Jo couldn't marry Alex was because she was already married and had run away from her abusive husband and changed her name. This has now left fans wondering what is Jo Wilson's real name on Grey's Anatomy? But even now, it seems to be a secret she is determined to keep under lock and key. During the Season 13 winter finale, Jo found out she was being called to testify in Alex's court case the following day. But Jo knew that if she took the stand, she would be under oath to tell the truth and she feared that she would be asked about her marriage.
Rather than have Alex hear the truth in the courtroom, Jo decided to tell him everything in the elevator — the place where every doctor at Grey Sloan Memorial Hospital shares their deepest, darkest secrets and feelings. She explained to him the whole situation and how her husband once tried to beat her to death and that she'd been running from him ever since. Jo told him that she changed her name and that the reason she didn't tell him was because she was trying to protect him and prevent him from doing something stupid that would result in him getting put in jail. (The irony was not lost on them either.) Obviously that plan backfired, but at least the sentiment was there.
Jo then told Alex that if the truth came out on the stand she would leave, but not because of him. However, Alex told her not to run. He said that she should stop running and be Jo Wilson because that's who she is now. After that, in an effort to protect Jo, Alex decided to accept the two year plea deal from the DA so there wouldn't be a court case. (Though whether or not he goes through with it is still up in the air.)
Now that Jo may not have to go on the stand, there's no reason for her to ever bring up her past or her previous name ever again. But fans have to find out eventually, right? Otherwise, why bring it up? I'd also like to think that means her ex-husband will never find her, but with Grey's Anatomy anything is possible and Jo may soon discover that no matter how far she runs, her past will catch up to her.
It would be devastating if Alex's possible sacrifice ended up being all for nothing, but it would be surprising if Jo's husband doesn't somehow end up at Grey Sloan. Unfortunately, fans will have to wait a while until January to see what ends up happening and whether or not Jo's true identity will ever be revealed.