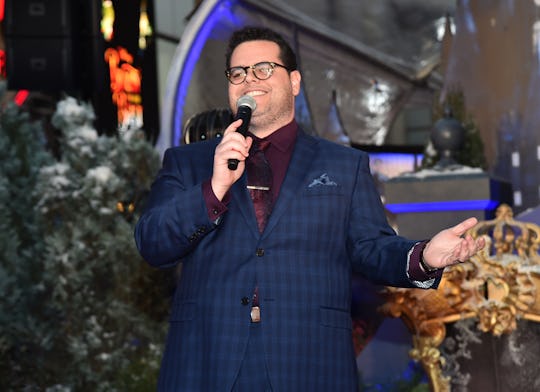 Alberto E. Rodriguez/Getty Images Entertainment/Getty Images
Josh Gad Has Plenty Of Musical Experience
When it was first announced that the character LeFou in the 2017 live-action remake of Beauty and the Beast was gay, people went wild with both excitement and frustration towards the character's identity. Since then, the madness has (somewhat) died down, which is a good thing, because headlines shouldn't distract fans from the character's hilarious lines or the musical pipes of the actor who portrays him. LeFou, played by actor Josh Gad, has quite the impressive voice, which might have people wondering about Gad's musical background.
The live-action remake of Disney's Beauty and the Beast is nothing short of dazzling, primarily due to the sheer amount of beloved musical numbers involved. Whether you love musicals or not, there is no denying that songs like "Be Our Guest" and "Gaston" are catchy and memorable. And the latter song, which features a musical moment by LeFou, is practically guaranteed to become a favorite. Gad, who has a background in musical theater, had plenty of singing experience prior to starring in Beauty in the Beast. According to him, singing is something he just loves to do. "Singing is just an extension of a feeling," Gad told ABC News. "It's what you can't express otherwise."
Gad must have been drawing on personal experience when he said that — the actor first found his fame on Broadway, after all.
Gad first starred in the musical,The 25th Annual Putnam County Spelling Bee in 2005 — and after making his Broadway debut in that show, according to Broadway.com, Gad was asked to participate in "early readings" of the musical, Book of Mormon. In 2011, Gad originated the role of Elder Cunningham in the musical and remained in the role for a little over a year, according to Playbill. He was nominated for the highest award in musical theater, a Tony Award, for Lead Actor in a Musical for that role the same year. According to Vanity Fair, prior to his debut on Broadway, Gad had "no formal musical training."
Since leaving Broadway, Gad has been able to show off his very talented singing skills in Frozen voicing your child's favorite talking snowman, Olaf. Olaf's song "In Summer" was not as massive of a hit as "Let It Go" — but Gad certainly stole the scene as the snowman who failed to see the irony in wanting to be warm. According to The Huffington Post, starring in Frozen was a "dream come true" for Gad because he got to star in a Disney film. "You have to understand — when I was growing up — I was absolutely obsessed with the animated films of Disney's second golden age," Gad told The Huffington Post in 2013. (Disney's second golden age, which is referred to as the Disney Renaissance, includes Beauty and the Beast.)
Now that he's playing LeFou in the live-action remake of Beauty and the Beast, it's pretty much guaranteed that Gad's dream has officially come true. Gad brings a powerful voice and his background in musical theater to the role, and he does it well. Fans everywhere won't be going home disappointed come opening weekend.