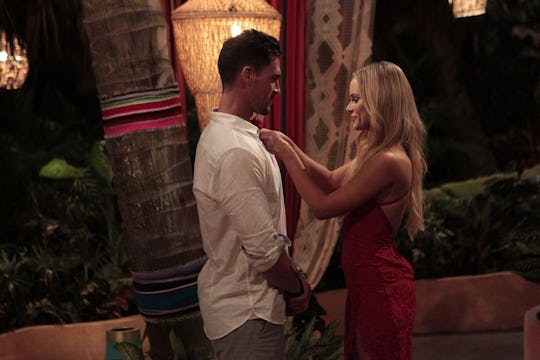 Rick Rowell/ABC
What Is Josh Murray Up After 'Bachelor In Paradise'? He May Have Moved
Josh Murray has either pretty good luck or pretty rotten luck on reality dating shows, depending on which way you look at it. He won Andi Dorfman's season of The Bachelorette, but they broke up a few months after getting engaged on the show. In her now infamous tell-all book, It's Not Okay, Andi calls the relationship with Josh "the most f***ed up" of her life. After the fall out from that, Josh joined other minor celebs like Brandi Glanville on Famously Single and now as we all know, he has joined the cast of Bachelor in Paradise. What is Josh Murray up to now after Bachelor in Paradise? From the looks of things, his life is looking up.
In paradise, it seems like Josh and Amanda are — officially — an item. Sorry, Nick Viall. The two have been connected at the mouth since Josh showed up on the show, and it looks like there's no turning back now. Josh's character has been brought up on the show, thanks to Andi's book, but he's chosen to address the book as "fictional." His full statement is as follows.
"How is one supposed to comment on a fictional novel? It saddens me and is very unfortunate that Andi has chosen to characterize me in such a negative way. I respect the private relationship we had for those 8 months and I choose to go through life building others up, not tearing them down. I wish her nothing but the best in her new career and I pray she finds peace and happiness in her life."
Josh is also presumably kept fairly busy with his actual job, which is as an Advisor for AdvoCare, a company that creates health products, mostly for athletes. These include protein powders, shakes, and bars as well as meal supplements and similar items. Although it should be noted that AdvoCare is located in Atlanta, Georgia, and Josh seems to be spending some time in California (yes, where Amanda lives with her children). In his caption for this Instagram picture he wrote, "California weather sucks and so does this wine - cue the violin." He also appears to have road-tripped there with his dog, suggesting that he's got some time on his hands, and that he plans to stay a while. Wouldn't he leave his puppy with a sitter if he was only going to be there a few days? Wouldn't he just take a plane unless he had some big items to transport? I'm on to you, Josh Murray.
One thing I can tell you for sure though, he's definitely not playing baseball.