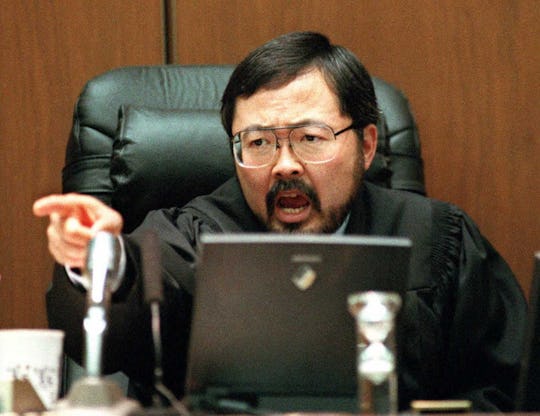 ERIC DRAPER/AFP/Getty Images
What Is Judge Lance Ito Doing Now? The O.J. Simpson Trial Judge Is Finally Relaxing
Despite the trial being over two decades ago, The People v. O.J. Simpson: American Crime Story has successfully transported us back to one of the most talked about trials of the century. Because of the increased attention the case has received over the previous few months while the show aired, many are wondering where the big players of the trial are today, specifically, what Judge Lance Ito is doing in 2016. Well, up until 2015, Judge Ito did what he did best.
When O.J. Simpson was tried for the murders of Nicole Brown Simpson and Ron Goldman, of which he was later found not guilty for, many major players in the trial shot to stardom. The media was all over the case, and those involved in the trial instantly became media sensations for all to watch. Judge Ito was just one of those sensations.
It wasn't all media glam for Judge Ito, though. In Episode 8 of American Crime Story, things get messy for the judge when the jury on the O.J. Simpson case revolts due to three dismissed deputies who were in charge of the jurors. It was a big moment in the trial that had nothing to do with the actual case. Not only does a revolting jury magnify the amount of distress that was going on within the courtroom, but it also shows just how little control Judge Ito had at one point during the trial.
Nowadays, Judge Ito doesn't have to worry about that. According to NBC News, Ito presided over "500 trials since Simpson's," but finally retired in 2015. Although Ito wasn't interviewed for the NBC News article, Robert Philibosian, a friend of Ito's for over 35 years, told NBC News that Ito — who lives in Pasadena, California — was having "a wonderful retirement."
Despite Ito not living in the past, Ito's name plate became a frequent item stolen from the courthouse, according to the Los Angeles Times. Sergio Robleto, a former commanding officer of the LAPD homicide unit also told NBC News that Ito didn't let the fame of the O.J. Simpson trial get to his head, saying, "He is so humble. It's kind of amazing, considering the spotlight he got put on."