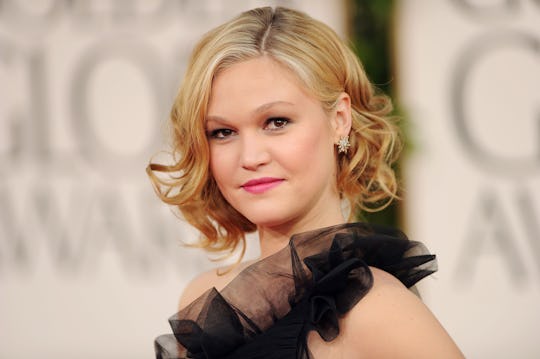 Jason Merritt/Getty Images Entertainment/Getty Images
What Is Julia Stiles Doing Now?
On Monday, a photo of actress Julia Stiles appeared on Twitter that had her fans reeling. Why? Because in it, she seemed to be pregnant, for the first time. This is not something that she formally announced previously, so as you can imagine, it was a bit of a surprise for fans of the 10 Things I Hate About You star. Now that Stiles' pregnancy news has hit the media, she's got people talking about other aspects of her life, like her ongoing career. What is Julia Stiles doing now? As it turns out, the actress is in a new miniseries to be released very soon, just for starters.
USA Today reported that Stiles seemed to be holding a baby bump during an appearance on Magic in the Morning with radio host Nick Snaith, in a photo he shared to Twitter on Monday. She made no mention of her pregnancy, but according to People, her representative has officially confirmed the news that Stiles is pregnant.
The Huffington Post reported that the father is Stiles' fiancé, Preston J. Cook, a camera assistant she met on the set of Go With Me, a previous project she was involved in. So what other projects has she been involved in recently?
According to Metro UK, the big thing Stiles has been a part of lately is a 10-part miniseries called Riviera. Riviera is about a woman, played by Stiles, whose husband is mysteriously killed in a yacht explosion, and she's left to discover the dark secrets of the lavish world he left behind. According to that outlet, even Stiles doesn't know how the series will end, because they've shot multiple endings. So you can bet it's going to get some buzz.
People reported that Stiles' radio appearance was part of her making the rounds to promote Riviera, which will air on the United Kingdom's Sky Atlantic channel. The BBC reported that Riviera will premiere on June 15 in the U.K., and it's unclear whether those of us in the United States will get a chance to watch it on the small screen ourselves, unless it's released online or otherwise available for overseas markets.
According to Julia Stiles' IMDb page, she also recently starred in a series called Trouble, which The Hollywood Reporter reported also stars Anjelica Huston, David Morse, and Bill Pullman. She was also in a movie called The Drowning, according to Variety, and IMDb states she's made recent appearances on Inside Amy Schumer and The Mindy Project as well.
The Huffington Post reported that starring roles in movies and television shows aren't the only exciting events happening in Stiles' life lately. She got engaged to her fiancé and the father of her child, Cook, on Christmas Eve 2015 in Colombia, and she hasn't yet taken on the role of "bride" yet. So that's something she and Cook are probably looking forward to.
The Gazette Review lists 10 Things I Hate About You, Down to You, Save the Last Dance, The Business of Strangers, Mona Lisa Smile, and The Omen as some of Stiles' most famous roles. The outlet reported that Stiles has also been an advocate for Habitat for Humanity.
But IMDb doesn't list any future movie or television series under Stiles' filmography past Riviera, so either that's the last project she's taking on for awhile, or she's staying very quiet about any future work.
In any case, Stiles will likely have her hands full being a new mom in the near future. Plus, with her talent, she can return to the big or small screen any time she wants — we'll certainly be waiting.