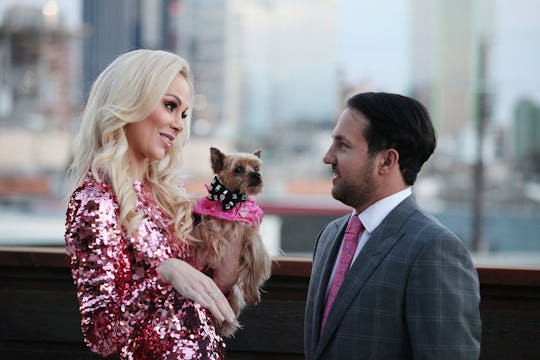 Peter Larsen/Bravo
Here's What Kameron Westcott's Husband Does For A Living
As Kameron Westcott tries to get her pink dog food brand launched on a national scale this season on Real Housewives of Dallas, one of her biggest obstacles is at home. Even though her husband Court invested his own seed money into the company for her, he'd still prefer that Kameron give up her aspirations of being a career woman and focus on being a mom. So fans may be wondering: what is Kameron Westcott's husband's job? For starters, according to Bravo, he comes from one of the wealthiest families in Dallas, works for the family business, and he's a venture capitalist, so he was actually a pretty good choice for an investor in Sparkle Dog.
Court describes himself as a "thesis-driven venture capitalist" on his LinkedIn profile, and he's been working for his dad's company Westcott LLC since 2001. According to his bio on the company website, "Court identifies investments with a strong focus on emerging technologies," and he's now a managing partner there. He received a bachelor's degree in philosophy and political science from Vanderbilt before getting his MBA at Southern Methodist University's Cox School of Business, according to his LinkedIn page. That's actually where he met Kameron, who was at SMU pursuing an undergraduate degree in fine arts, according to Bravo. Back in the first season of RHOD, Kameron admitted that Court asked her out eight times before she agreed to a date because she was too put off by their height difference.
Of course, she got over it and her nerves about meeting a Dallas dynasty when Court introduced her to the family, and they've been together ever since. They have two kids, Hilton and Cruise, plus two dogs, and Kameron has dutifully stepped into the role of "Westcott woman," which mostly involves raising the Westcott children, taking care of the house, and attending to the family's philanthropic duties in their community. She understands what's expected of her in Dallas society, but she's also desperate to drag the image of a Westcott woman into the 21st century.
It's been a pretty hard sell, from the looks of the past few seasons of RHOD. Court is resistant to Kameron spending time doing anything but being a mom. Luckily, Kameron has found some inspiration this season from an unlikely source. Brandi Redmond, whom Kam doesn't traditionally get along with, is currently juggling three kids, including an adopted infant, and still managed to get her resortwear line Brandi Land off the ground. At a party celebrating her latest collection, Kameron realized that Brandi might be more of a role model for her than she previously thought.
The good news is, if Kameron does manage to turn Sparkle Dog into a profitable business, it'll have been purely on her own hustle. Even though her husband fronted her the startup money for the company launch, she still hasn't had much support at home in terms of time to work on the business, and she's often portrayed on the show juggling parenting and work at the same time. Hopefully, Kameron can continue chipping away at a better work-life balance before the season is through.