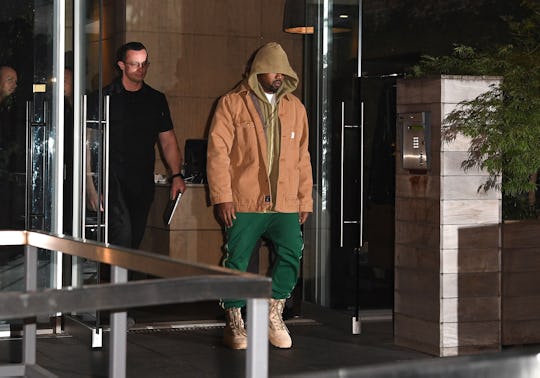 ANGELA WEISS/AFP/Getty Images
What Is Kanye West Doing At Trump Tower? Fans Are Not Happy
A tweet from CNN politics reporter Tal Kopan showed rapper Kanye West being escorted into Trump Tower early Tuesday morning. The rapper, who was just released from a psychiatric hold, has been in New York City interviewing psychiatrists, according to reports from TMZ. But what is Kanye West doing at Trump Tower?
West, who has just been released after an eight-day hospitalization, has been seen around New York City over the last few days. TMZ reported that he's been looking for a psychiatrist in the city. West was reportedly under psychiatric hold after experiencing worsening depression and anxiety, which ultimately caused him to cancel the remainder of his Saint Pablo tour.
West and his wife Kim Kardashian split their time between the East and West Coasts, and sources at TMZ say his visit to New York City this week is a crucial part of his post-hospitalization care plan. Identifying mental health resources and getting them in place before they're needed is always wise, and it appears that West is heeding doctor's advice, with a medical team in place to monitor his adjustment (which will likely include medication that West has taken before to help manage his depression, according to Hollywood Life).
As for why Trump Tower is a stop along West's New York City trek, no one's exactly sure. While most of the high-profile visitors to the building recently have been there to discuss possible Cabinet appointments with President-elect Donald Trump, West seems to have been at the building for some other reason entirely. The 68-story building in Manhattan is home to plenty of offices and businesses that aren't directly related to Trump enterprises, so it's possible that the meet-up was just a side-attraction during an otherwise mundane visit.
Some parts of the building are residential, as the tower also plays home to a stack of luxury condominiums, and there are plenty of bars, restaurants, and retail stores within the building that make it a destination for celebrities and tourists alike. Nike and Gucci, for example, have their flagship stores in Trump Tower — although Nike is probably not on West's list of stops, since he has some bad blood with the brand. (Earlier in 2016, West incorrectly claimed in his song "FACTS" that "only [performers] Drake and Don C. saved [Nike] with their sneaker collaborations," according to HighSnobiety, along with a host of other critical comments meant to deride Nike, following its previous collaboration with West.)
After arriving at Trump Tower on Tuesday, West and Trump appeared before reporters and West said he "just wanted to take a picture" with the president-elect. In video from CNN, Trump said that he and West "have been friends for a long time."
While the most likely explanation is that West just wanted to say hello to the next President of the United States, given the growing number of controversial figures being appointed to Trump's Cabinet, it also wouldn't be that surprising if Trump was actually considering West for a spot. Maybe artist-in-residence for the White House?