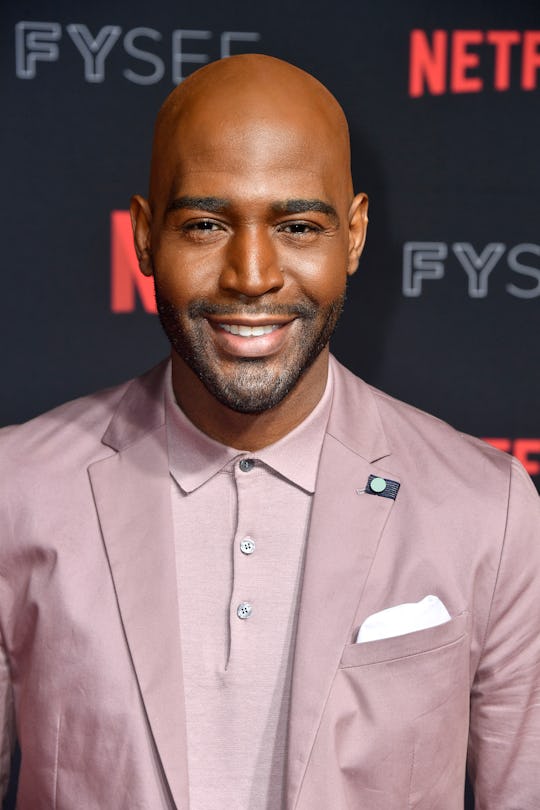 Frazer Harrison/Getty Images Entertainment/Getty Images
Here's What 'Queer Eye's' Karamo Brown Does For A Living
There's nothing more satisfying than watching a Fab Five makeover. Whether it comes to wardrobe, interior design, or helping people find their best self, the Queer Eye guys are always on point. Karamo Brown is the show's cultural expert, and his experiences as a gay black man bring a much needed, diverse perspective to Queer Eye's cast and the discussions that surround the modern LGBTQ experience. But what is Karamo Brown's real job?
Technically, his role on Queer Eye is a real job, and as an invaluable part of the show, I'm sure he is well compensated for it. Throughout the show, Karamo helps people on a personal level by trying to motivate them to be better all around. He worked as a social worker for almost two decades, so he brings his experience and compassion for people to the show.
On his own website, Karamo lists himself as the current host of MTV's Are You The One: Second Chances and The Unexplained on the History Channel. In the past, he worked for OWN (the Oprah Winfrey Network) and Huffington Post Live as an on-air producer and host, and he was also a contributor on NBC's Access Hollywood Live. Back in 2016, Karamo appeared on the reality documentary series, The Next 15, that followed his life as a gay, single father who was balancing work and family.
But The Next 15 wasn't Karamo's first dance with reality TV. In fact, reality TV is where he got his start in show business. Karamo first debut was in 2005 on MTV's hit reality series, The Real World, where he ended up making television history. According to his website, through his role on The Real World, Karamo went on to "become the first openly gay African American in the history of reality TV."
When he isn't helping people on Queer Eye, Karamo spends his down time helping people in other ways. In 2016, he founded an HIV awareness organization called 6in10.org, and through the non-profit, he strives to help reduce and eradicate the HIV epidemic that is plaguing gay and bisexual black men. Statistics show that six out of 10 gay or bisexual black men have HIV, so the organization is trying to reach out to the demographic through mental health support and education about the disease.
Aside from being a reality TV star, a host, and a philanthropist, Karamo is also a father to two young sons. In an interview with Parents, he revealed that at the age of 25 he found out he had a 10-year-old son. Karamo told the outlet:
"I came out at 16-years-old as a proud, gay man. My last girlfriend in high school — when I was 15 — became pregnant with my child but did not tell me. She moved away, and I never had contact with her again — remember this is before social media."
Ten years later, when he was faced with court documents asking for child support, Karamo learned of his son's existence and decided to take custody. He is now a father to his biological son, Jason, and because he didn't want to tear the family apart, he also adopted Jason's younger brother, Chris, as well. Not only is raising his two sons, but Karamo will officially be adding one more person to the family when he marries his long-time partner and now fiancè, Ian Jordan.
If you aren't caught up with Queer Eye, you can stream all of Season 1 on Netflix right now. And If you're ready for an all new season of inside-out makeovers, laughter, and love, you can catch the eight-episode premiere of Season 2 of Queer Eye on June 15, exclusively on Netflix.