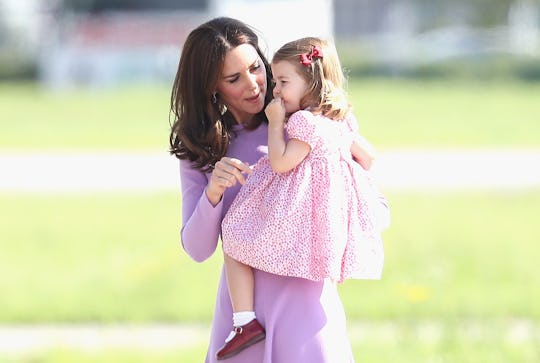 Chris Jackson/Getty Images Entertainment/Getty Images
Kate Middleton's Net Worth Is More Than You Probably Think
By all appearances, the Duchess of Cambridge is living a fairytale. She has a beautiful family, a royal title, and a wardrobe to kill for, and this princess is worth a pretty penny as well. Kate Middleton's net worth is estimated to be in the millions. And her combined wealth with husband Prince William will reportedly increase once Charles ascends to the throne.
Middleton's story has often been played up as a rags-to-riches, prince-and-the-pauper type ascent to royalty, but she was not some lowly peasant when she met William. Her family had substantial holdings before she become involved with her now-husband. The Middleton family's net worth reportedly comes in at $50 million, much of which comes from an online party supply business called Party Pieces. This business may have had humble start-up beginnings, but it has grown into what CNN called "the U.K.'s leading online and catalog party company." An entrepreneurial spirit and a whole lot of cake and confetti allowed the Middletons to grow their nest egg substantially.
There are conflicting numbers circulating online for Middleton's exact personal net worth. Many sources value the princess at $1 million, but Celebrity Net Worth puts the number as high as $10 million. Either is a modest number compared to William's whopping $40 million net worth, and because Middleton is not doing paid work, she's probably not accruing much income, but objectively, she's financially very comfortable in her own right.
Middleton and her husband's combined fortune is also set increase substantially the pay raise once William's father, Prince Charles, becomes king. At that point, William will replace Charles as duke of Cornwall and be entitled to the massive profits coming from the Duchy of Cornwall.
Established in 1337 by Edward III as a way to provide an income for his son Prince Edward, the Duchy is a private estate that includes acres of land in numerous countries and an investment portfolio. The Telegraph places the net value of the Duchy at £877 million ($1.1 billion). While William and Kate would not be entitled to sell it, they will live comfortably off of its profits. According to The Telegraph, Prince Charles reportedly received a profit of £20.5 million ($26.4 million) from the Duchy in 2016.
Even if Kate isn't currently stacking up pounds in a personal account, she is more than provided for. Between the money coming in from her royal endeavors and the millions in Middleton family holdings, she is free to focus on her extensive charity work without worrying about earning a paycheck. Oh, to be royal and in love.