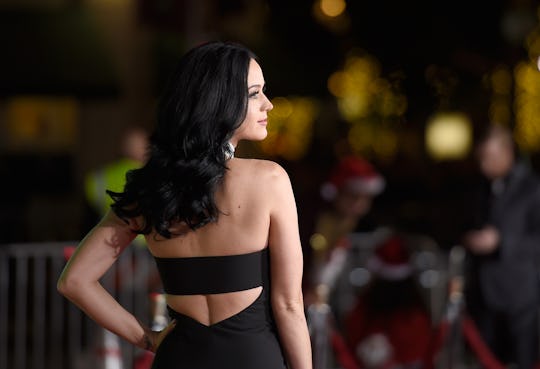 Matt Winkelmeyer/Getty Images Entertainment/Getty Images
What Will Katy Perry Sing At The Grammys?
Remember how excited we all were when we found out that Beyoncé was performing at the 2017 Grammys? Well, buckle up folks, because Katy Perry has been confirmed as a performer at the awards ceremony as well, ensuring the night will be one for the books. But now, fans are wondering, what is Katy Perry singing at the Grammys? The singer, who hasn't put out a new album since 2013, released a new single this past week, entitled "Chained to the Rhythm." Because of this, many are speculating as to whether the singer-songwriter will perform her new hit, or perhaps perform something a bit more familiar to fans and viewers, like "Roar" or maybe even a mash-up of some of her biggest hits, such as "Teenage Dream" and "Last Friday Night."
However, as Perry isn't nominated this year, her performance would be the perfect opportunity to remind the world of her strong presence and skills. In fact, her new song has already broken a Spotify streaming record since its initial release Friday. As the song has already been such a massive success, Perry's decision to possibly perform it would probably only expand upon that triumph, but she could also use this opportunity to premier more tunes from her upcoming album.
While Perry's sound has always veered on the pop side of music, her newest single also has a disco-tech vibe to it as well. Along with the new song, Perry also debuted a new hairstyle on Friday, her signature dark locks taking a turn for a lighter hue, platinum blonde to be exact. With all this change coming about in such a short period of time, it's hard to accurately predict just what Perry will be performing tonight, or how extreme her stage presence will be this year.
However, what can be said, is that even when Perry has performed at more low key venues, such as the Democratic National Convention this past summer, she has always brought her A game, never wanting to disappoint her fans.
But, we wouldn't be surprised if Perry decided to make things a little political with her performance, as the singer has never been one to shy away from speaking her mind and taking a stand. Especially with many artist boycotting the Grammys, citing a lack of diversity in the nominees, tonight seems like it was made for Perry's reemergence.
Good luck, Katy! We can't wait to see what you have in store for us all tonight.