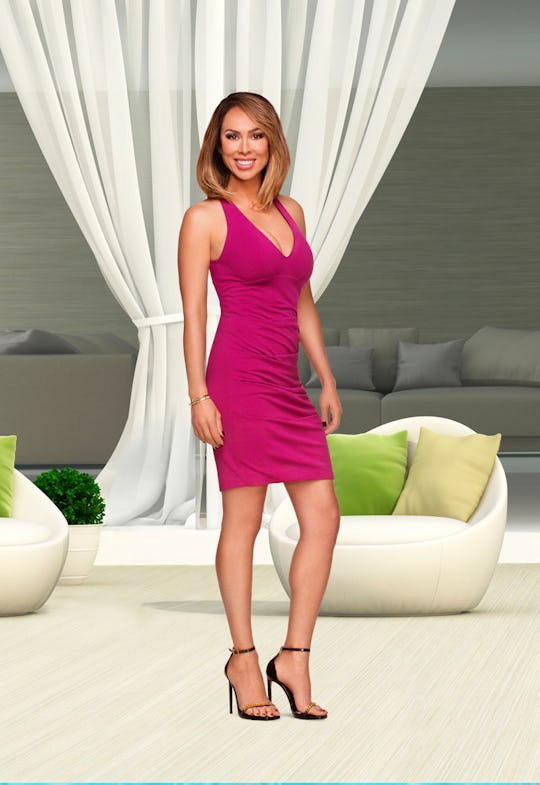 Chris Haston/Bravo
What Is Kelly Meza-Dodd's Net Worth? The 'Real Housewives' Star Is Keeping Up
When The Real Housewives of Orange County first premiered, it took viewers into the lives of the unbelievably wealthy, and invited us to gawk at their incredible lives with shock and amusement. Necessarily, all of the women on the show have seriously enviable bank accounts, from the Original Housewife, Vicki Gunvalson, to "fancy pants" Heather Dubrow. The Orange County franchise has a new wife in town this season, leading fans to wonder what she's working with. So, what is newcomer Kelly Meza-Dodd's net worth? It looks like she'll have no problem keeping up.
According to The Net Worth, which is not always reliable, Kelly's net worth is estimated to be at around $9 million. That's a pretty comfortable number! Where did this wealth come from? Kelly is COO of the company Kiss Me Mirrors, which looks like a line of compact makeup mirrors based out of Newport Beach. Her husband, Michael, is definitely bringing in some major dollars. Michael recently stopped working, and is back at home full-time. Before his departure in February, Michael was the COO of LeapFrog, a major tech toy company famous for it's high-tech educational toys aimed at teaching children to read. In the early aughts, LeapFrog was famous for the LeapPad, and in 2008 it launched the Tag, a handheld device with a stylus.
In February of 2016, Michael cashed out of the company, presumably cashing out of his stock ownership, as LeapFrog is a publicly owned company. LeapFrog is also a major company, which means that this cash out probably netted the family a pretty hefty sum. From what we can see of Kelly's vacations to Ireland, and what looks like a newly designed home, they are doing pretty well.
Kelly is close friends with Meghan King-Edmonds, who was the newbie last season, and it appears that she's already bonding with Vicki, who has dubbed herself the "OG of the OC," and whose accumulated wealth is in the same ballpark. With the addition of Kelly and her close family, this season of The Real Housewives of Orange County looks like its going to be especially drama filled.