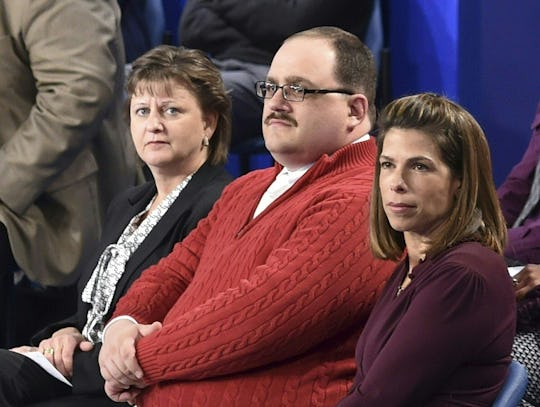 PAUL J. RICHARDS/AFP/Getty Images
What Is Ken Bone Doing? Did Everyone Forget About Him?
In the 2016 election season, there have been winners and losers. Some might argue that the American public's sense of decency has been lost. Others might argue that Democratic presidential nominee Hillary Clinton has been a winner, because of how she's winning. And others still might point to Ken Bone, the hero of the town hall debate, as a winner in this election cycle. But then again — what is Ken Bone doing now, anyway? Have his five minutes of fame fully passed?
The answer, in short, is yes: Ken Bone is over, and his final, slippery hold on relevance will be fully lost once Halloween has passed. On Nov. 1, post-hipster fans of ironic costumes will hang up their khakis and red sweaters, and they will only think of Ken Bone again in passing, years later, when an intrusive Facebook memory about Halloween 2016 appears in their news feed.
To review, Ken Bone is a 34-year-old man from Illinois who works as an operator at a small-town coal plant, according to The New York Times. During the second presidential debate, he asked the candidates a domestic energy-related question in a tone that struck viewers as polite—heroically polite, because apparently his intrinsic normal-ness, paired with his khakis, red sweater, and spectacles, served as some sort of metaphorical counterpoint to the divisive, vitriolic debate that took place that night.
"What steps will your energy policy take to meet our energy needs while at the same time remaining environmentally friendly and minimizing job layoffs?" Ken Bone asked the candidates.
And from there, an internet sensation was born. Bone's Twitter following increased from seven to 250,000; he was interviewed by late night host Jimmy Kimmel; He fielded telephone calls by the country's major media organizations. A "Sexy Undecided Voter" Ken Bone Halloween costume was marketed by the lingerie brand Yandy, which serves as a counterpart to the plain Jane Ken Bone Halloween costume consisting of khakis and a red sweater — the IZOD Men's Cable Solid 1/4 Zip in Red Dahlia, specifically, which has sold out on Amazon.
But then, the inevitable happened: Bone's swelling mob of devoted fans, many of whom knew little about him, found out that he wasn't perfect. Last week, Bone hosted a Reddit ask me anything session using his real Reddit handle, thus opening up his Reddit history to the public's prying eyes. Among the less savory discoveries were Bone's lustful comments about a pregnant woman, his remarks about forging car insurance documents, and his argument that while the killing of unarmed black teenager Trayvon Martin in 2012 was "justified," George Zimmerman, Trayvon's shooter, reportedly seems like a "bad guy."
"Upon learning that their meme was an actual human being with unwholesome thoughts, desires and opinions, many began to condemn the man in the red sweater," critic Dani Di Placido wrote in Forbes. And as ordinary citizens dealt with Bone's fall from grace, Bone himself found himself defending his record — in short, acting like a politician, which seemed to sully the "ordinary man" image that had brought him fame in the first place.
"I'm human and I make mistakes," Bone told The Washington Post on Friday, in response to the Reddit findings. "I said some things that I shouldn't have said, and I own that."
Despite the apparent ending, or at least halting, of Bone's fame, things have turned out okay for everyone, when it's all said and done; Many will have cool Halloween costumes, and Bone recently Tweeted a photo of his grandma and sister wearing Ken Bone t-shirts. All is right with the world.