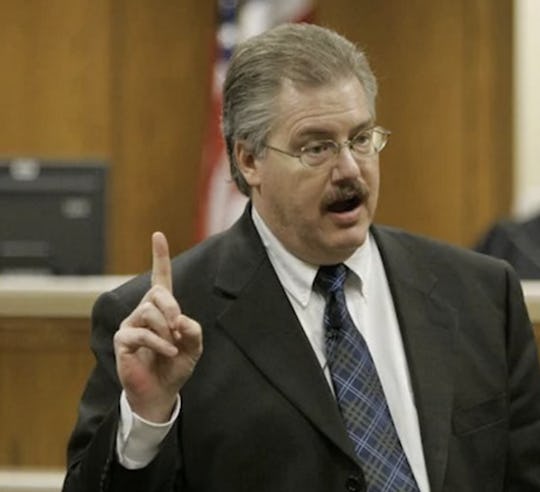 Netflix
What Is Ken Kratz Doing Now? The 'Making A Murderer' Prosecutor Has Had A Rough Few Years
While Netflix's Making a Murderer takes a compelling and chilling look at the criminal justice system and rural politics, it also exposes some of the creepiest mustaches known to man. While the upkeep of sightly facial hair was understandably not a top priority for Steven Avery, I'd like to know what excuse former Calumet County, Wisconsin district attorney and Making a Murderer prosecutor Ken Kratz has for that mustache. I'm not sure what Ken Kratz is doing now, but hopefully that mustache is gone.
In all seriousness, Kratz is guilty of something much worse than terrible facial hair. In 2010, it was revealed that Kratz had sexted an abuse victim while prosecuting the woman's boyfriend for domestic violence. Krantz was later forced to resign when those "racy" texts went public.
Stephanie Van Groll first met Krantz in 2009, when he was assigned to prosecute her boyfriend's case. Groll told police that Krantz sent her over 30 sexts throughout the trial, in which Krantz, then 50, called Groll a "tall, young, hot nymph." In another message, the former prosecutor asked Groll if she was "the kind of girl that likes secret contact with an older married elected D.A." Groll alleged that she felt pressured not to deny Krantz's advances or he'd throw out her boyfriend's case.
Following the revelation, the Wisconsin District Attorneys Association, several domestic violence advocates, and the Wisconsin governor urged Krantz to resign. Which is what he did.
Years after leaving the district attorney's office in disgrace, Kratz told Radar Online that he was embarrassed and ashamed of the way he came off in the Netflix true crime miniseries — which was basically as a creep. "If you watch the Netflix series, I'm arrogant, narcissistic, I'm a d*ck! It's not an attractive personality that's out there," he said.
While Kratz admitted that some of that "bravado" is required as a prosecutor, he conceded he may have turned the machismo dial up a bit too high. "I had become dependent on a combination of prescription medications, and started behaving in a very erratic, really creepy way," he explained.
According to The New York Times, Kratz said that the filmmakers of Making a Murderer portrayed him with bias because they did not believe Avery was guilty of killing Teresa Hallbach, and that the case was likely a miscarriage of justice. However, because Kratz declined to be interviewed for the documentary, the show's creators Ricciardi and Demos have since called Kratz's bias claim "baseless."
Since the documentary debuted in December, Kratz has been busy making the rounds and giving interviews on various talk and radio shows, most recently sitting down with Fox News' On the Record to discuss Making a Murderer's sudden popularity. "I don't call it a documentary at all," Kratz told host Greta Van Susteran. "It only puts one side of the story out there."
Of course, Kratz has plenty of things to keep himself busy these days besides being angry on talk shows. Currently, the former DA works as an immigration and DUI lawyer at his own firm in West Bend, Wisconsin. Unfortunately, Making a Murderer fans seem to have done their very best to infiltrate that aspect of his life too, leaving a wave of angry and sarcastic comments on the firm's official Yelp page. Oops.
Images: Netflix/Screengrab; Giphy (1)