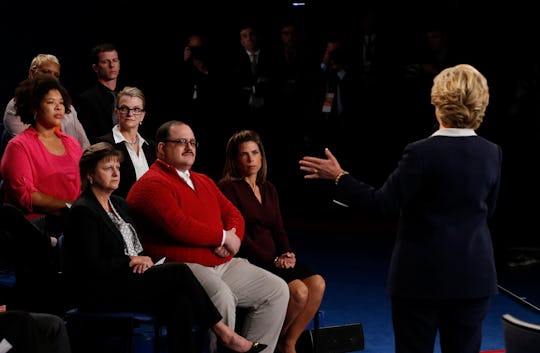 JIM BOURG/AFP/Getty Images
What Is Kenneth Bone's Job? It Inspired His Presidential Debate Question
It's been a few days now since the world was first introduced to Ken Bone, the undecided voter in the red sweater that the internet collectively lost its mind over during the second presidential debate. But the love is still pouring in for the mustachioed man from Missouri, and his fans have been trying to uncover as much information about him as possible. What is Kenneth Bone's job? At the debate, Bone asked both candidates about their respective energy policies, which makes a lot of sense because the 34-year-old married father is also an operator at a coal plant in Illinois, according to The New York Times.
When it was his turn to pose his question at the town-hall style debate, Bone asked, "what steps will your energy policy take to meet our energy needs while at the same time remaining environmentally friendly and minimizing job layoffs?" With his question, Bone explained, he was hoping to "spark a debate about subsidies for environmental controls for older coal-fired power plants" (way to focus on the issues!). As for his take on the candidates' answers? Bone told The Belleville News-Democrat that he "liked Trump's answer," but hoped he would have spoken more about the environmental impact, and thought Clinton could have focused on how she intended to prevent layoffs.
Bone still considers himself to be an undecided voter, and told the News-Democrat, "there are not a lot of positive points being made by either of the candidates to get a 100 percent commitment from me." He also explained that he felt torn between the candidate he thought might be best for him personally, versus who might be best for the country overall. Though Bone was initially leaning more towards Trump for economic reasons, he told CNN following the debate that he was "impressed with Clinton's composure," and later told Jimmy Kimmel that he was also concerned about the impact a Trump presidency could have on Supreme Court decisions, explaining it would be "unconscionable" to vote for someone who could appoint a judge who would want to repeal same-sex marriage rights, according to TIME.
But while Bone takes election issues seriously, he's much less serious about himself, and the instant fame he's found thanks to his red sweater. In his interview with Jimmy Kimmel, Bone joked about the sweater being an emergency backup choice after the olive suit he'd intended to wear turned out to be too small — and that he'd actually split his pants when he got in his car:
I thought, 'Wow, grandpa would be so proud if I wore this suit.' But apparently I have gotten somewhat more fat since then, and when I got into my car, I split the seat out of my pants and destroyed my olive suit and I had to do an emergency wardrobe change.
Other gems from that interview, according to TIME? Bone gave his wife full credit for his fashion sense, explaining that, "I would love to say that I was born this way, [but] the short answer is that my wife dresses me, like all great Americans." As for his thoughts on Kimmel's claim that his fans were starting to call themselves "boneheads," Bone replied, "That's fantastic. I've been calling my family that for years."
Given the fact that Bone's red IZOD sweater is now completely sold out (which, by the way, he bought "at a Kohl's in Wausau, Wisconsin," according to ABC News), Bone said he wouldn't be opposed to working with the brand in some way if they were to reach out — or even auctioning off his famous sweater for the right price.
One thing that his fans shouldn't expect to happen anytime soon though? Seeing Bone actually attempt to run for president, as many have called for on social media. As he explained to ABC News, "Unfortunately, I look old because I'm fat and bald, but I'm not eligible. I'm only 34."