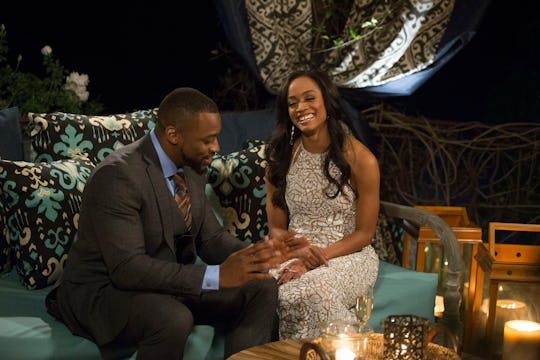 Paul Hebert/ABC
Kenny From 'The Bachelorette' Has An Interesting Career
I'm just going to say it: Kenny is one of the most likable contestants of this Bachelorette season. Not only is he incredibly sweet to Rachel and friendly with the other contestants, but it's clear that his first priority is his 10-year-old daughter, McKenzie. When he's not talking about McKenzie (or how much he's into Rachel), Kenny's probably talking about his job as a professional wrestler. He's known as "The Pretty Boy Pitbull," and he's even been on reality television before for his wrestling. So what is Kenny's job outside The Bachelorette? The pro-wrestler has an impressive list of accomplishments.
Viewers first met Kenny during the premiere episode with footage of him both in the wrestling ring and with his daughter. It's not the first time he's shown off his wrestling skills on camera. Kenny appeared on the WWE's Tough Enough after seeing an ad when he was in college; he was a football player without any wrestling experience, but that jump-started his career. He went on to compete with the federations Total Nonstop Wrestling Action and Ring of Honor, and has an extensive Wikipedia page outlining his career. He's also won several championships, and was participating in matches up until the end of last year.
For those in Bachelor Nation who remember a confession Kenny made a few episodes back, he has something a little different on his resume as well: a Chippendales dancer. While Kenny is from Queens, he attended the University of Nevada, Las Vegas and remained in the city until The Bachelorette. Not much is known about his time as a dancer, but given his physique and the fact that he lives in Vegas, it makes a lot of sense.
On his ABC bio, Kenny lists his occupation as "professional wrestler," and says he's usually either working or with McKenzie. He wrote that a typical Saturday night means, "Either wrestling in my underwear in front of thousands of people or at home with my daughter." Being "The Pretty Boy Pitbull" is clearly important to Kenny, but not as important as being a father. The 35-year-old is not afraid to make both of these facts known, and Rachel has often appreciated how caring he is. It's unknown as of now whether he's the one to win Rachel's heart, but no matter the outcome, Bachelor Nation can expect Kenny to return to the wrestling ring after this season is through.