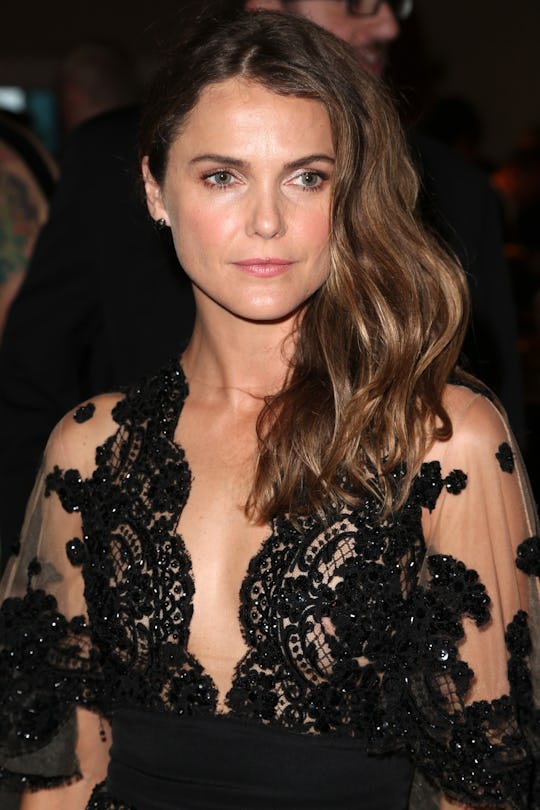 Frederick M. Brown/Getty Images Entertainment/Getty Images
What Is Keri Russell's Son's Name? He Sounds Absolutely Adorable
Keri Russell has a lot of exciting news to share these days. The Americans actress recently gave birth to her first baby with her FX show's costar, Matthew Rhys, but she didn't reveal until Friday that the couple had a baby boy. And for the Russell fans who have followed the actress from her early Disney career, to Felicity (who can forget that Felicity Porter followed her high school crush to college?), to present-day, you're probably excited to hear about her growing family. So, what is Russell's son's name? The 40-year-old actress revealed her baby boy's name is Sam.
In an interview with NBC TODAY, Russell shared information about her "big and fat and nice" newborn boy.
"We had a boy," Russell said, according to NBC. "He's so good, he's big and fat and nice." The actress also added that Rhys, 41, has been doing "so well" since the baby's arrival.
In an interview with The New York Times, Russell shared what it was like being pregnant while filming for The Americans. Her pregnancy was not incorporated into the show's plot, so apparently, The Americans crew got pretty creative when it came to hiding her pregnancy bump.
There was a lot of winter-coat wearing. We justified it, like, 'My mind is full of so many things, and I'm so worried that I just keep my coat on, even in the bedroom.' I held a lot of giant salad bowls.
The Americans, premiered in 2013 and created by Joe Weisberg and Joel Fields, follows two soviet spies who pose as a married couple, Elizabeth Jennings (Russell) and Phillip Jennings (Rhys), who are living in the D.C-area and spying on the United States government during the Reagan era.
In an interview with Variety, FX original programming president, Eric Schrier, credited the show's success to the creators and talented actors, like Russell and Rhys.
Through its first four seasons, critics have lauded 'The Americans' as one of the best shows on television and, remarkably, a series that keeps getting better every year. All credit for that achievement goes to everyone who has worked on the show, and especially co-showrunners Joe Weisberg and Joel Fields, Graham Yost, our brilliant stars Keri Russell, Matthew Rhys, Noah Emmerich, Allison Wright, Holly Taylor, Annet Mahendru and the ensemble cast for their incomparable performances every season.
Russell also has two other children, a son River and daughter Willa, from her previous marriage with Shane Deary. And now they're big brother and sister to baby Sam.