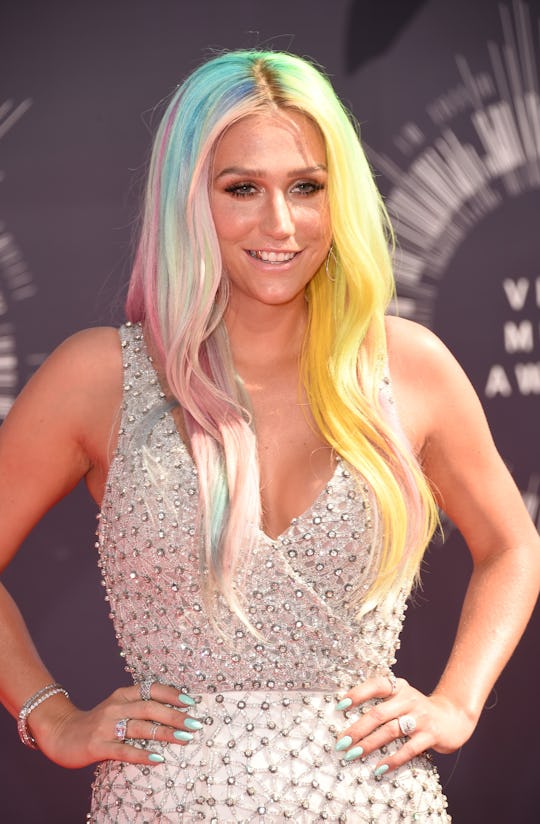 Jason Merritt/Getty Images Entertainment/Getty Images
Here's What Kesha's 'Rainbow' Is About
On Friday, Aug. 11, singer Kesha released her new album Rainbow — her first album in five years. In preparation of the release, she's performed selections from it and spoken to several sources about the project and what it means to her. So what is Kesha's Rainbow about? It sounds like it's a deeply personal, honest album from the entertainer, and so far, the project is getting great reviews.
According to Rolling Stone, Kesha has spent the last few years involved in a "grueling legal battle" with her frequent collaborator, "superproducer" Dr. Luke. The singer accused Dr. Luke of physical and emotional abuse, and it was unclear whether the singer would ever release new music again. At the time of Kesha's allegations, Linda Carbone, a representative for Dr. Luke, told Romper:
Kesha's allegations against Dr. Luke are false, concocted to smear him publicly so that Kesha can get out of standard industry contracts that she entered into after she claims the alleged incident occurred. We have publicly insisted all along that Kesha should admit her lies and tell the truth. Everyone has a responsibility to learn the facts before condemning Dr. Luke in the media, particularly since Kesha swore under oath that her allegations are false. When the truth wins out in court, everyone will recognize that Kesha has victimized Dr. Luke and actual victims of sexual assault with her lies
And with all of that, it would have been understandable if Kesha decided to get out of the business and never make music again. Thankfully, she didn't do that.
NPR actually went through Rainbow track by track with Kesha, and her explanations for each song reveal a whole lot of hope and honesty on the singer's part. It's an incredibly personal album, and according to Marissa Lorusso at NPR, Kesha's "country roots, love of outer space and belief in pursuing kindness all made their way into her Rainbow."
The New York Times "Women in the World" feature called Rainbow "a powerful feminist album," partly due to the song "Woman" being included on it. So that's another important theme behind Rainbow, and an empowering one that many listeners will probably strongly relate to.
On the other hand, Vanity Fair called Rainbow "a blatant, angry response to the singer's battle with a legal system that has left her feeling frustrated and trapped as an artist." But frustration and empowerment do not have to be mutually exclusive, and if anything, that just proves that Rainbow is complicated, complex, and multi-faceted.
The words "hope" and "hopeful" are included in Billboard's breakdown of several lyrics in the songs on Rainbow, as they are in many other reviews of the album. It seems like hope is a major theme behind Rainbow, for both Kesha and her fans.
According to The Hollywood Reporter, on Wednesday, Aug. 9, Kesha talked about the album on Good Morning America, and she was very open about how much the album means to her, and how much she hopes it means to listeners. She told Robin Roberts:
I've written every song on this album and they're all so personal. This record, quite literally, saved my life. I hope you guys like it and I hope you can hear it, and I hope it helps people.
According to The Hollywood Reporter, the singer went on to say of the title track on Rainbow:
It talks about me personally going through something very hard, lots of very hard things, making it through, not giving up, and finding empathy on the other side — which is incredibly hard sometimes.
It's very clear that Rainbow is about Kesha and everything she's been through. It's very personal, extremely honest, and, most importantly, it's her story, told her way.
Kesha told NPR that Rainbow is "a healing album," and hopefully, in creating it, she has found some kind of peace or power.