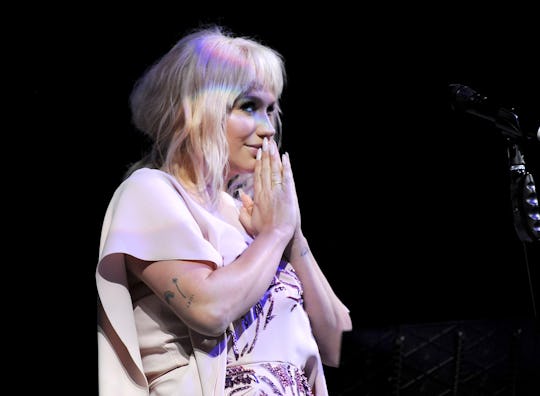 Angela Weiss/Getty Images Entertainment/Getty Images
What Is Kesha's 'Til It Happens To You' Cover About? Her Message Is Powerful
At this year's Oscars, Lady Gaga sat behind a white grand piano and dramatically delivered an emotional ballad titled "Til It Happens To You" and made everyone think again about the gravity sexual abuse is in our world today. Shortly after her performance, fellow musician Kesha tweeted a heartfelt message of support for bringing attention to the issue, saying that "it hit very close to my heart for obvious reasons." Kesha showed her support once again on Saturday night at the Humane Society Gala in Los Angeles when she took the stage and sang an emotionally powerful cover of Gaga and Diane Warren's ballad, visibly emotional. Kesha's performance was beautiful and her message is even more powerful, so let's take a look at Gaga's lyrics and what Kesha's cover of "Til It Happens To You" is about to understand why it's so important.
"I want to dedicate this song to every man, woman, child and animal that has ever been abused," she told the crowd with tears in her eyes as Warren, songwriter and the night's honoree, started playing the song on the piano. Just as she began to sing the opening lines, "You tell me it gets better," she was noticeably overwhelmed as she took a moment for herself and then delivered a moving version of the song.
What makes Kesha's performance of "Till It Happens To You" especially touching is her ongoing legal battle with Dr. Luke, in which she previously alleged that the producer sexually and verbally assaulted her. (Dr. Luke has denied both allegations in court and on social media, and has not faced any criminal charges related to the suit.) In April, a Supreme Court judge dismissed Kesha's claims, prompting a number of high profile celebrities to come to her aide with messages of support — including Gaga herself.
Gaga tweeted her support again after Saturday's performance. "Killed it @KeshaRose," she wrote. "I could feel your pain. Girl these boys won't be in charge forever. This wisdom of women is rising Let's get louder." Gaga has previously opened up about being raped when she was 19 by someone in the music industry, so the sentiment was especially poignant.
Back in March, Gaga spoke with Carson Daly on AMP Radio 97.1 about Kesha's lawsuit. "I think that people should just know that there's so much more than what meets the eye in a case like that," Gaga told Daly in the radio interview. "I feel like she's being very publicly shamed for something that happens in the music industry all the time, to women and men. I just want to stand by her side because I can't watch another woman that went through what I've been through suffer."
After Kesha's lawsuit was dismissed earlier this year, she posted a photo on Instagram and wrote that she would not apologize for accusing Dr. Luke of sexual assault. "So. I got offered my freedom IF i were to lie," Kesha alleged in the caption. "I would have to APOLOGIZE publicly and say that I never got raped. THIS IS WHAT HAPPENS behind closed doors. I will not take back the TRUTH. I would rather let the truth ruin my career than lie for a monster ever again."
Gaga subsequently urged viewers to "take the pledge" to end sexual assault after her own Oscars performance of the song.
Gaga's initial message was obvious and gained more significance through Kesha's performance. But the message is clear for those in the music and entertainment industry: Sexual assault is not so easily talked about in today's victim-blaming culture. Kesha's performance gives sexual assault victims a voice when no one else will listen.