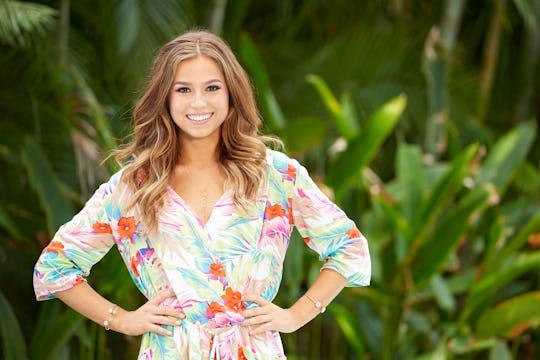 Bob D'Amico/ABC
Kristina Seems To Be Doing Well For Herself After 'Paradise'
For me, Labor Day doesn't symbolize the end of summer; the end of Bachelor in Paradise does. Thankfully, this season has yet to wrap up, but I can sense it coming. Since Paradise has such a quick filming time — less than three weeks — it's shocking to think about how life-changing it can be. One fan favorite Bachelor Nation may be curious about is Kristina. Will she experience the same whirlwind that Evan and Carly did or go back to Kentucky? What is Kristina doing now after Bachelor in Paradise? Social media may give some clues as to her life beyond Paradise.
Bachelor Nation first met Kristina on Nick Viall's season of The Bachelor, and she was easily one of the most interesting contestants on the show. Kristina is from Russia and lived in an orphanage from when she was 5-years-old to 12, until she was adopted. She then came to the U.S. and became a dental hygienist. When she told Nick her heartbreaking story, he — and fans at home, let's be real — couldn't help but tear up. Despite that, though, she didn't win Nick's heart and he ended up sending her home. Kristina's back in Mexico looking for love, and she didn't waste any time cozying up with Dean.
In the last episode, though, there was trouble in Paradise for Kristina. She and Dean hit it off almost immediately — they even spent the production break together — but once Danielle L. showed up, Dean's had his eyes on her as well. Dean is trying to "choose" between Kristina and Danielle L. and keeps flip-flopping. It's not a good look for him, and it's clearly hurting Kristina. The Kristina/Dean/Danielle love triangle came to a head last week when Kristina and Dean had a heart-to-heart... then Dean fooled around with Danielle in the pool.
Not only was Kristina furious, she compared her experience to being in the orphanage... whoa. Seeing as Paradise is ending soon, what is Kristina up to now? From her Instagram, she seems to be living a carefree life. She recently shared a photo of her and her Paradise crew (including Dean) at an event in Nashville, so perhaps they're on speaking terms if not more. She's also partying in Los Angeles, so maybe she's not moving back to Kentucky full-time (just yet, at least). It's clear she's taking a break from her dental hygienist work in Kentucky; whether she'll move to L.A. like so many other Bachelor alums isn't certain yet. I just hope she's able to find the happiness she so deserves.