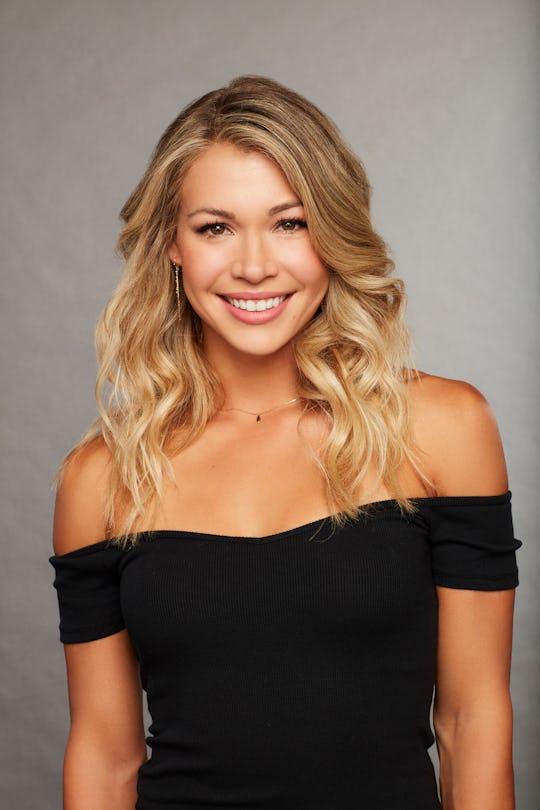 Craig Sjodin/ABC
Krystal From 'The Bachelor' Is Passionate About Her Career
After the first episode of The Bachelor Season 22, already a few women stand out from the rest of the pack. One of those women is Krystal Nielson, whose mesmerizingly soft voice either has you clawing at your ears or longing to have her read you bedtime stories. In either case, I'm definitely curious to know more about her. So what does Krystal do outside of The Bachelor? This contestant's job is to stay in great shape and to help others do the same. She's a fitness coach, and it looks like she loves her job. Maybe she'll organize fun workout sessions with some of the other women at the Bachelor mansion.
Krystal, who lives in San Diego, California, was one of the women who got an introductory video package in the first episode, allowing viewers to get a sneak peak at her personality before she stepped out of the limo and was introduced to Arie. In the video, she explained that she's an online health and fitness coach. The video then showed her filming a workout on the beach. My main question here is how she made sure nobody else would be on that beach during that time. In any case, just by looking at those highly muscled arms, it's easy to tell that she's definitely committed to her exercise regime.
In the video, Krystal also said that she's really passionate about nutrition and helping other people become the best versions of themselves. Personally, I'm a little dubious about the "best version of yourself" concept as a whole, particularly as it relates to fitness, but I like how passionate Krystal seems to be about it. And I really like that she helps people achieve fitness goals for themselves. She talked about her passion for her work in her ABC bio as well, saying that her greatest achievement to date is, "Finding my purpose as a health and fitness coach. I LOVE what I do for work." Not everybody gets that chance, so good for Krystal.
But Krystal isn't only a fitness coach, she is also a volunteer. The video showed her volunteering with the homeless in San Diego, which she began doing after she discovered that her brother had become homeless. Her brother, she explained, was not ready to accept her family's help, so she decided to do what she could for others in his situation. There is nothing to hate or mock here. This is just a kind and lovely thing to do for other people. But that's not to say that her involvement with the show will be entirely drama-free.
The promo for the rest of the season promises lots of drama. A short clip of Krystal shows her sipping tea and looking to the side, which is such a gloriously shady moment that I have high hopes that Krystal will prove to be highly entertaining in the *drama* department. If this show was just about love all the time I worry that it would become overly sappy way too soon.
Krystal appears to be the only fitness professional among Arie's group of women — a veritable sea of real estate agents and social media managers. Now, do I think Krystal's passion for fitness will win Arie's heart in the end? I guess we'll just have to wait and see how she does. And if she doesn't win his heart, I have no doubt she'll be able to get plenty of dates even when she's not on television.
Check out Romper's new video series, Romper's Doula Diaries:
Watch full episodes of Romper's Doula Diaries on Facebook Watch.