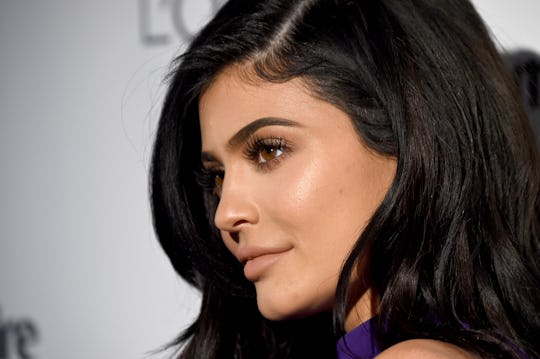 Frazer Harrison/Getty Images Entertainment/Getty Images
Guys, Kylie Jenner Is Really Freaking Rich.
In a rather shocking statement of the day: TMZ reported on Friday that Kylie Jenner is pregnant with her first child. The father of the baby is reportedly Travis Scott, who has been dating the reality star since earlier this year. Jenner, who is 20, is reportedly expecting her first child this winter and fans are, for lack of a better word, absolutely shook. The news, naturally, has people wondering about Jenner's ability to raise a child, specifically what Kylie Jenner's net worth is. So, in today's least shocking statement of the day, I'm here to tell you: Kylie Jenner is really f-ing rich.
According to Life & Style, Jenner's net worth is about $50 million. But wait, it gets so. much. better. Forbes, which is majorly reputable and like The Voice Of Money, puts Kylie Jenner's 2017 earnings at $41 million. That's a four and a one, with a million after it. For just 2017. (Forbes marks her earnings to be around $17 million for 2016, so she's seen quite the sizable leap forward in tax brackets.)
Are you shocked, though? The 20-year-old (sorry, I think I need to continue to stress that Jenner has amassed this much money in 20 short years, while in 20 years, all I figured out was how to semi-pluck my eyebrows) has created an absolute empire with her Kylie Cosmetics brand. What first started as a lip color has completely transformed the make-up world. People aren't just buying Jenner's product, they're lining up, selling out, and creating fake versions of her now epic lip color line. Can she share some of her secrets with the class?
And there are really no plans of her stopping. According to Women's Wear Daily, Jenner's cosmetic line is bound to be worth $1 billion by the year 2022, which is so close you guys. And it's not like Jenner is only raking in money via her make-up line, either. On top of that huge empire that she has built, Jenner is also bringing home money from the show Keeping Up With the Kardashians, her spin-off show Life of Kylie, and her oft controversial fashion line Kendall+Kylie, which she works on with her sister Kendall Jenner.
So, when it comes to becoming financially responsible for a baby, I don't think Jenner will find any issue scrapping up money to pay for any type of bill that is thrown her way in new motherhood.
And, even if you still have worries about the financial load that may come with bearing a new child, let me lay your fears to rest by sharing how much the alleged father of Kylie's baby, Travis Scott, is worth. Scott, a rapper who has had a very successful few years, is worth anywhere between $4 million and $8 million, according to Elite Daily.
The couple has not confirmed their pregnancy, at least not to the point where it will stick. According to TMZ, Tyga allegedly posted a since-deleted Snapchat that read "hell nah that's my kid" to his account. While that would seem to confirm the news (though, let's be honest, we're all waiting for Kylie to post that Instagram photo for us to all freak out about), we can't really assume anything until the two release some type of statement regarding the legitimacy of the rumors. (People has said that it was confirmed via their source.)
Hopefully fans will get some peace of mind regarding the news, although that is entirely on Jenner's own time. Even if we want her to confirm the reported pregnancy, she shouldn't do anything she doesn't want to do until she feels the need to do so. Until then, let's all count the zeroes on Jenner's net worth — it should take up a lot of time.
Watch Romper's new video series, Romper's Doula Diaries:
Check out the entire Romper's Doula Diaries series and other videos on Facebook and the Bustle app across Apple TV, Roku, and Amazon Fire TV.