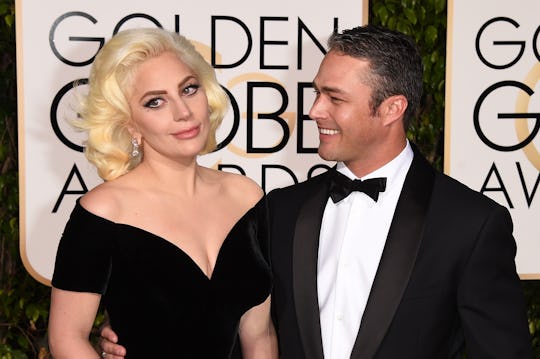 Jason Merritt/Getty Images
What Is Lady Gaga Wearing At The Golden Globes? Her Vintage Look Did Not Disappoint
Lady Gaga is no shrinking violet — so why should she dress like one? Just when everyone thought the musician and actress had taken a turn for the demure, Lady Gaga's Golden Globes dress that she show up wearing on Sunday was a fantastic throwback creation that had tongues wagging. (Not that anyone expected anything different.)
Arriving to raucous applause, Gaga turned heads by channeling Marilyn Monroe in a ravishing black Versace couture gown and platinum blonde wig (a bit mundane when compared to her 2010 MTV VMA meat dress, but what isn't?).
In an interview with Mirror Celeb on Sunday, Gaga's stylist and Fashion Police host Brad Goreski spilled the beans early, hinting that Gaga, who eventually went on to win Best Performance by an Actress in a Limited Series or Motion Picture Made for Television for her role in American Horror Story: Hotel Sunday night, would be hitting the red carpet in something seriously wild (okay, it wasn't that wild, Brad, but sure). "With Gaga I had to pass off some pretty outrageous gowns for her fitting today, so I don't know if there's a streamline direction," Goreski explained, "You'll be surprised."
Surprised is definitely an understatement. Still, Goreski told The Mirror that taking chances was key when it came to making a big statement. "I think with the Globes you have more license to experiment," he said.
Although a few people have been less than kind in their criticism of Gaga's Globes nod (rude!), it seems the enigmatic entertainer came out on top once again. With Gaga riding such a huge wave of success recently, maybe those critics ought to reconsider. No?
Images: Jason Merritt/Getty Images; Mark Ralston/AFP/Getty Images