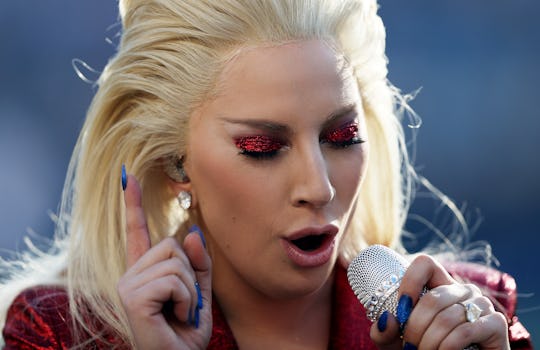 Patrick Smith/Getty Images
What Is Lady Gaga Wearing At The Super Bowl? The Star Spangled Banner Singer Is Rocking Custom Gucci
Talk about outfit envy. To open up the Super Bowl tonight, Lady Gaga will be wearing a custom Gucci outfit to sing the National Anthem. The pop star already posted a few pictures of her outfit on Instagram — and the get-up was so incredible, even non-football fans were likely considering tuning into the big game, just to catch a glimpse.
Gaga's Super Bowl shoes alone were something to behold. "Red, white, and sparkly blue," the singer wrote in an Instagram post on Sunday, snapping a pic of the platform t-strap heels. "Thank you, Alessandro, for my beautiful custom outfit tonight!" Later, she shared a snap of her pulling up in a little golf cart with a long, dark jumpsuit, although the adorable, patriotic heels were nowhere in sight.
It looks like she's going full on "America" for the event. Gaga's hair was pulled back all nice and simple (at least before the show started), but the eyeshadow game was already strong. "Star Spangled Red-Slipper eyes!" she wrote in another post, which featured her glittery red eyeshadow and mentioned her makeup artist (Sarah Nicole Tanno) and stylist (Frederic Aspiras). Her suit was a sparkly red and her nails were long and blue.
Gaga seems really excited about her first major Super Bowl gig. Yesterday she shared an image of her sheet music for the tune and thanked the NFL for choosing her to kick off the big game. "I'm truly touched the NFL asked me to sing the National Anthem at #superbowl50," she wrote. She added that it was an honor to "sing for the finest athletes, coaches, and fans in the country and pay respect to our flag together before the game."
Gaga works often with the fashion house Gucci, and she's even done a commercial for their scent Femme. In one of her singles, "Fashion," she calls out the designer as one of her favorites. She sings, "j'adore Vivienne, habillez-moi, Gucci, Fendi et Prada" (for you non-French speakers, that roughly translates to "I love Vivienne [Westwood], dress me, Gucci, Fendi, and Prada"). And really, who doesn't?
Hopefully, Gaga's rendition is of the National Anthem is as good as her outfit on Sunday night. Who am I kidding? Of course it will be.