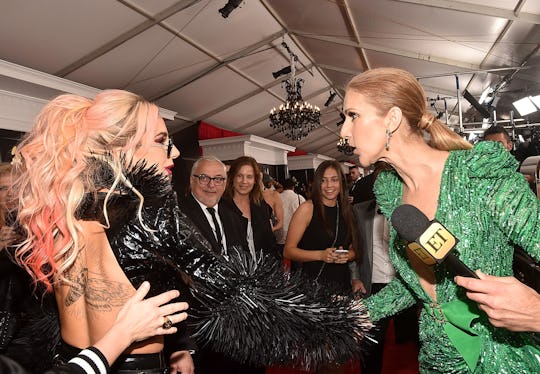 Alberto E. Rodriguez/Getty Images Entertainment/Getty Images
Lady Gaga May Have Just Debuted A New Tattoo
Hot off the success of her Super Bowl halftime performance, Lady Gaga arrived at the 2017 Grammys red carpet Sunday night, and girl looked fierce. And while her outfit is definitely worth a double (or triple) take, one detail really stood out: her back tattoo. So, what is Lady Gaga's back tattoo? Fans claim it's new.
Dressed in an edgy black outfit with some majorly fabulous thigh-high black boots, the singer's back was visible, and well, something looked different. As fans pointed out, Lady Gaga has an upcoming collaboration with the rock band, Metallica, which perhaps was the inspiration for her latest ink job, which appears to be a large rendering of a moth with a skull head.
Of course, Gaga is no stranger to pushing the limits and boundaries when it comes to red carpets, so her pretty mild (for her) black outfit left us all wondering where the shock value was in her appearance. But then, we saw it.
The large, black tattoo was definitely a show stopper on the red carpet, and honestly, if the tattoo is real, then I truly admire her dedication to her art, and her music. Good on you, Gaga, work it girl. ‌
Of course, since the tattoo is so large, and so incredibly new, many fans were wondering if it was even real, or just temporary, for her performance with Metallica later in the night.
Whatever the case, though, Twitter was really enjoying her dramatic new addition, and it seems that fans will just have to wait until later to see if the ink is really real, or just a temporary addition to mark her highly anticipated Metallica collaboration from Sunday night.
The moth, as fans have speculated, is a tribute to Metallica's song, "Moth Into Flame," perhaps hinting at the song the group will perform with Lady Gaga later tonight.
Obviously, though, whether the tattoo is real or fake, I think everyone can agree that Gaga herself looked fantastic and badass, as usual.
Seriously, the pop icon was major #goals with her black ensemble, and of course, her hot pink eye shadow, which was naturally amazing.
While everyone had a second chance to glimpse the tattoo during Gaga's performance with Metallica, they were still quite blessed to get so much Gaga already this year. Honestly, though, everyone needed it. Because if anyone can distract the country from the ruckus happening all around them, it's Gaga.
Slay, Gaga.