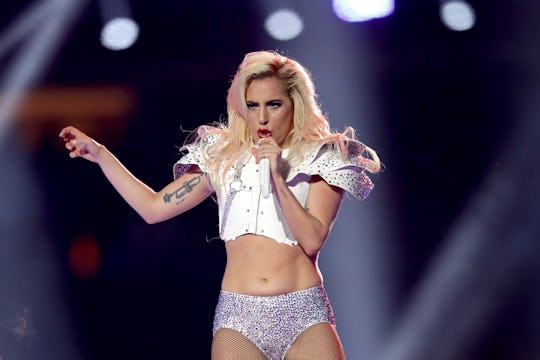 Ronald Martinez/Getty Images Sport/Getty Images
Fans Get An Inside Look At Lady Gaga's Life In 'Five Foot Two'
It's hard to deny that Lady Gaga is one of the most talented, dynamic, and fearless artists of the last decade. Through her music, philanthropy, and fashion choices, she has inspired a generation of people to be bold, take risks, and love themselves unconditionally. But what exactly drives the 31-year-old entertainer? Her Little Monsters will have a chance to find out when her new project, Five Foot Two, drops next month. What is Lady Gaga's Five Foot Two, you ask? The singer took to social media Thursday to tease her new documentary that gives an intimate look into a year of her life.
According to Rolling Stone, Gaga's Five Foot Two will arrive on Netflix Sep. 22, after it premieres at the Toronto International Film Festival earlier that month. The New York-born singer previewed clips from the doc in a series of Instagram posts that, put together, form the cover art for Five Foot Two. The documentary, directed by filmmaker Chris Moukarbel — the mind behind Banksy Does New York — captures a year in Gaga's life as she copes with "everything from 'relationships to health issues, from finding solace in her inner circle to conquering her insecurities'," Rolling Stone reported.
Lady Gaga shared five clips from Five Foot Two on her Instagram account Thursday morning. Each clip shows a candid look into different aspects of the singer's life, from the Joanne singer's views on Madonna to being alone among the crowd, according to USA Today. In the first video she posted, Gaga is swimming in a pool that's darkly lit; over the clip plays a recording of the artist as she talks about feeling lonely and stranded at the end of the day.
Gaga says, as she cries,
But like, I just... I'm alone, Brandon. Every night. And all these people will leave, right? They will leave and I'll be alone. And I go from everyone touching me all day and talking at me all day to total silence.
In the last video, which reveals the Netflix premiere date, Lady Gaga is discussing her thoughts on Madonna, who has criticized the Born This Way singer for "blatantly rip[ping] off" her music, according to Entertainment Tonight. Gaga has been compared to Madonna countless times, and the two artists have been engaged in a rather odd feud for years, E! News reported.
Before the clip cuts off, Gaga says,
The thing with like me and Madonna for example, is that, I admired her always. And I still admire her, no matter what she might think of me. The only thing that really bothers me about her is that...
Other clips from the documentary show Gaga preparing for a medical procedure and flying above the NRG Stadium for her Super Bowl 51 half-time show this past February, Rolling Stone reported.
From the looks of it, Five Foot Two will no doubt leave a lasting impression on Gaga's Little Monsters and will bring them closer to the influential singer. But let's be honest — fans want to know more about her thoughts on Madonna.