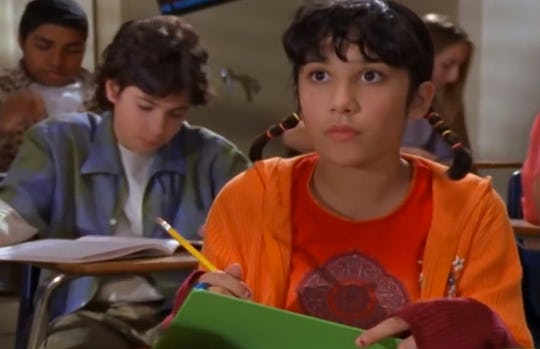 Disney Channel
What Is Lalaine From 'Lizzie McGuire' Doing Now? Miranda Sanchez Never Got To Say Goodbye
If you were an avid Disney Channel fan as a teen, funky hair accessories, sugar skulls, and rebel punk tops probably come to mind when you hear the name Miranda Sanchez. Miranda was Lizzie's gal pal and BFF (along with Gordo) in Disney's Lizzie McGuire. Yet fans never got to say their goodbyes to her since she was written off the show in a strange way. She supposedly took a trip to Mexico with her family, and never reappeared in the series, or the film. She went to Mexico, right? Not the Bermuda triangle. I digress. Even though we'll never really know what happened to Miranda, we can find the answer to the question everyone's thinking: what is Lalaine from Lizzie McGuire doing now?
In a 2015 interview with The Huffington Post, Lalaine discloses that after the television series, she experienced some "dark years." She was arrested for felony possession of meth-amphetamine three years after the hit show came to a close, according to HuffPo. However, she got the charge expunged after finishing a drug treatment program. The arrest was a necessary "slap in the face" to the child star, she said.
She then later went on to become a member of the band, Vanifty Theft. She spent a year-and-a-half traveling across the country playing bass with fellow female rockers. But ever since Lizzie McGuire, Lalaine has, for the most part, stayed out of the limelight, aside from making a brief cameo appearance in the movie Easy A (2010).
"I'm just more on the relaxed side of things. I hold a job down to pay the bills, and I've been doing all these random little projects" The Lizzie McGuire star told The Huffington Post.
"[My life used to consist of] craziness and nonstop everything, and, when I was a kid, not really knowing what a kid's life was. It was just go, go, go. Now it's just a completely different perspective on my go, go, go. I'm just more like trying to walk over there. I'm not trying to jog or run anymore."
It looks like even stars need to stop and smell the roses sometimes. Life doesn't always have to be a race, and Lalaine looks much happier dancing to the beat of her own drum, or in her case, guitar.
In the past 5 months, she's posted a bunch of throwbacks on her Instagram with Lizzie, and some with Gordo as well. She also had a run-in with Duff at a bowling alley awhile back, that co-star Jake Thomas joined (Thomas played Lizzie's annoying younger bro).
Perhaps one day we will see the full cast reunite, or even better yet, have a comedic reunion episode focused on Miranda returning from Mexico.
Whether or not this ever happens, at least Lalaine looks like she is doing just fine.