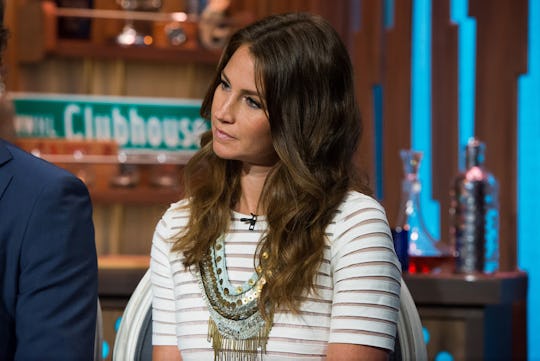 Charles Sykes/Bravo
What Is Landon Clements' Job On 'Southern Charm'? She Wears Many Stylish Hats
There are a lot of questionable jobs on Southern Charm. Cameran has started working in real estate. Shep has joined the real estate train, but is not picking it up as a career because he also has a bar. Craig is working with JD, but again, even that seems a little rocky. And I am not entirely sure what Thomas Ravenel has been doing since his failed run for office, but that's neither here nor there. And then there is Landon, the Carolina dreamer who has a ton of ideas, and is just trying to funnel them into a successful project. So, what exactly is Landon Clements' job on Southern Charm? Well, there is actually a lot she is capable of doing.
In her Bravo bio, Landon has a ton of really cool career gigs that definitely go with her cool-girl style on the show. There's no doubt that Landon has style, so it makes complete sense that while she was living in Colorado she once worked for an interior designer working for Ralph Lauren Home. Sounds like a dream job for someone looking to get into the design world. If that wasn't cool enough, she then expanded her scope nationally after moving to California. There she took a job with SBE and Philippe Starck as they developed hotels, restaurants, and nightclubs, nationally. (It's around this time that she met her former husband, the "James Bond Brit" type of guy that swept her off her feet.)
But what about now — what is Landon up to? Well, she's kind of one of those people who has her hand in a lot of pots. As we've seen on the show, Landon paints, helps charities, wants to write, and include all things Charleston lifestyle into her life. That sounds like a tall order, but she seems to be a pretty talented woman, so there's no doubt that some people would buy whatever she tries to sell them.
Unfortunately, Landon is not on LinkedIn — or at least not easily found — so where her exact current income is coming from is kind of unknown. But, her Instagram does give us some hints as to where she's earning some money. In her Instagram bio, the Southern Charm star links to a website called Beauty Counter. The page itself seems to be linked to her name, so it appears as if she is some type of representative or influencer for the safe ingredient beauty site.
Landon is certainly someone I would trust when it came to beauty product suggestions. She is always looking stunning and stylish, so it seems she's found a niche audience that will definitely value her opinion.