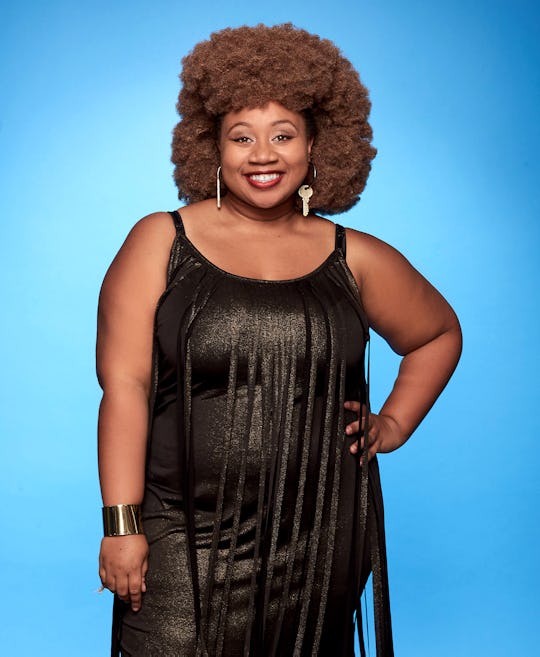 FOX
What Is La'Porsha Renae's Key Earring On 'American Idol'? The Singer's Jewelry Has Major Significance
La'Porsha Renae is probably the most electrifying performer that American Idol has seen since the likes of Kelly Clarkson or Fantasia Barrino. From the moment of her audition, American Idol fans have been captivated by Renae's spirit, her magnificent hair (affectionately nicknamed Kokomo), her bone-chillingly beautiful voice, and also a beguiling, mysterious key earring La'Porsha Renae wears on all American Idol live shows. So, what's the deal behind this off-beat accessory?It turns out that the key earring has way more significance than just as a piece of quirky styling.
La'Posha Renae has proven to be a star on American Idol. She could very well win the entire show. But, every week while she's recapturing the hearts of America, the key earring also recaptures my attention. So, what is this key? It turns out that it is actually a Giving Key. The Giving Keys is a company started by Caitlin Crosby that makes and sells jewelry out of keys, engraved with inspirational words. The keys are intended to be inspirational, and a source of strength and encouragement to and from the giver and the receiver. The company partners with nonprofit organizations to help combat the pervasive problem of homelessness in America.
The story of The Giving Keys begins, inauspiciously enough, in a New York City motel. In an essay on Huffington Post, actress and singer/songwriter Caitlin Crosby explains that she fell in love with the look of the old, rusted key to her motel room, so she "permanently borrowed" it and began wearing it on a chain around her neck as a piece of jewelry. Once she was back home in Los Angeles, she engraved the word "Love" on it, inspired by the many compliments she received. She began to sell various used and discarded keys engraved with uplifting messages on the merchandise tables at her shows. She told the fans, as it says on the company website, that we are all like these keys, "unique, flawed, scarred, and sometimes discarded by others." Now, these old, otherwise worthless objects have a renewed purpose.
Crosby knew that she wanted the keys to have some sort of bigger social purpose than simply a message of paying it forward. According to the company's "story" on their website, the inspiration came from a chance encounter with a homeless couple bearing a sign that read, "Ugly, hungry, and homeless." She took the couple, Rob and Cera, to dinner that night, and by the end of the evening they had become her business partners (after discovering that Cera made jewelry). Today, the company's mission is to help those affected by homelessness. It partners with organizations such as Chrysalis and The Downtown Women's Center, which work to provide jobs and housing to those people. The Giving Keys employs 28 people who have struggled with homelessness, and has helped 22 move into permanent housing.
Messages on The Giving Keys are things like FEARLESS, HOPE, and STRENGTH. When the key-wearer encounters someone in need of the message they wear, they are encouraged to give the key away and share their own story.
La'Porsha Renae has shared small snippets of her own extraordinary struggles on the national stage, including her ongoing divorce and history with abuse, and has emerged as a powerful, awe-inspiring force. The Giving Key, which she has attached to the hoop earring herself, is a beautiful symbol of her own journey, and a piece of encouragement to us all.