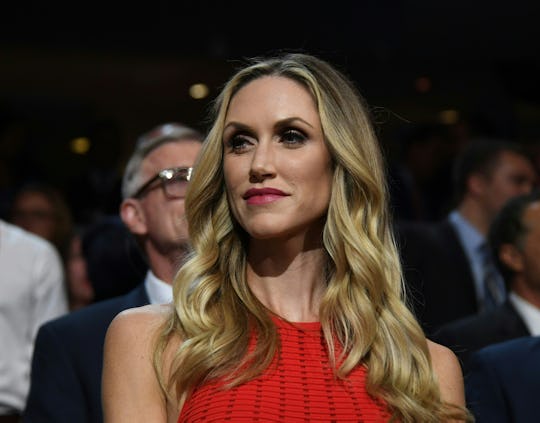 JIM WATSON/AFP/Getty Images
What Is Lara Yunaska's Job? She's Built A Career in Television
Lara Yunaska isn't the most famous member of the Trump family. But the striking blonde, who is married to Donald Trump's son, Eric, has been a fixture of the Trump campaign, making appearances of behalf of her father-in-law and sitting in the audience during the debates and at the Republican National Convention. But despite her high-profile role in the GOP presidential campaign, most Americans don't really know much about her. What is Lara Yunaska's job? She's built a career in television.
Yunaska, according to her bio on the Eric Trump Foundation website, graduated with a degree in Communications from North Carolina State University and began working at a local news station. In 2007, she decided to move to New York City to attend the French Culinary Institute where she studied the pastry arts, the biography says. She also sits on the Board of Directors for the Eric Trump Foundation.
But her current gig is as an Associate Producer at Inside Edition, the biography from the Eric Trump Foundation says. According to her LinkedIn profile, Yunaska Trump has worked at Inside Edition since January 2012. Prior to that, according to LinkedIn, she owned her own business, called Lara Lea Confections.
What's interesting about Yunaska's television background is that it's fueled some rumors that Donald Trump's entire presidential candidacy will morph into a larger Trump TV enterprise, which could put Yunaska front-and-center in the family business once again.
During Wednesday night's debate, the speculation about whether Trump TV was a real thing ended. It launched on social media, according to The Week, to cover the debate and featured Trump-brand conservatives retired Lt. Gen. Michael Flynn and Arizona Gov. Jan Brewer.
Just after 8:30 p.m. on Wednesday, according to BuzzFeed, Trump's Facebook page posted the link to the video stream, which, without any fanfare, attracted around 200,000 viewers at its peak. The message with the link read:
If you're tired of biased, mainstream media reporting (otherwise known as Crooked Hillary's super PAC), tune into my Facebook Live broadcast. Starts at 8:30 EST/5:30 PST — you won't want to miss it. Enjoy!
Earlier in the week, another Trump in-law, Jared Kushner, husband to Ivanka, was reportedly talking to groups of investors about launching a Trump TV Network, BuzzFeed reported.
It's easy to see where a woman like Yunaska could easily find herself a comfy spot among the top brass at Trump TV and leave that associate producer title for Inside Edition behind.