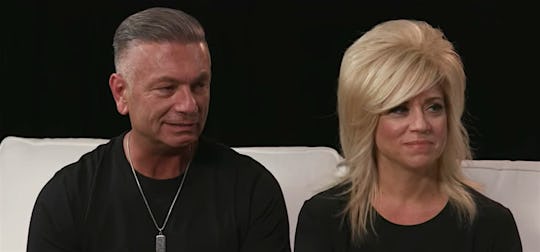 TLC
Larry & Theresa Caputo Are Living On Opposite Ends Of The Country
It's been a few months since Long Island Medium's Theresa and Larry Caputo announced their split to the world. While some fans may have been holding out that they'll reunite, it doesn't seem to be likely. In fact, they're even living on opposite ends of the country. So what is Larry Caputo doing in Los Angeles? He doesn't have as strong of a social media presence as Theresa, so it may be harder to keep up with him.
Theresa and Larry had been married 28 years before announcing their split in December. She detailed the sweet story of how they met in her book, There's More to Life Than This. She admitted that while she is a medium, she's been skeptical of psychics before. So when a psychic told her she was going to meet an older man with a mustache, Theresa had a difficult time believing it; she didn't even like facial hair!
Well, the psychic turned out to speak the truth. Two years later, she and Larry met while she was working as a customer service representative at Larry's family's oil company. Not only was he older and had a mustache, it was the 1980s — so he was rocking a mullet as well. Two years after meeting, Theresa and Larry were married. They have two kids, Larry Jr. and Victoria.
In December 2017, Larry and Theresa made the announcement that their marriage was over. While they didn't announce that they were getting a divorce — which would obviously mean they would no longer be married — they announced a legal separation. So while they are legally married, they are now apart. "After 28 years of marriage, we have decided to legally separate," Larry and Theresa said in a joint statement to People. "We will always love each other and our two wonderful children. We are united in supporting each other and our family. Please respect our privacy during this time."
While there doesn't seem to be one specific incident that caused the separation, Larry and Theresa both talked on Long Island Medium (the episodes leading up to the announcement; the season finale the day afterwards; and the current season airing now) about their marital troubles. It seems that Larry wasn't happy that he wasn't getting all the attention from Theresa due to her career. "I think a lot of the frustration has to do with us not spending the time together anymore," he told his friend Danny in the last season finale. "Along with that comes the lack of communication so it's like losing your best friend. It's hard."
Theresa, too, felt a distance from her husband. "Since the last season of Long Island Medium and through a period of time, Larry and I's relationship has changed," she said in an episode that aired before the announcement, in November. "We've been there for each other, you know, through thick and thin, you know, good times, and right now are not such great times."
In April, Theresa said she and Larry are living on opposite coasts. She is still in New York (she is the "Long Island medium," so that makes sense) while Larry is in Los Angeles. But what is he doing there, exactly? According to CelebrityNetWorth, Larry is retired, so it's not like he's working in the oil business. Because he's not active on social media, and because he hasn't been appearing on the show as much, there's not much information to go on.
What fans do know is that his absence is taking a toll on Theresa. In a recent episode, Theresa discussed the difficulty of the split. "There's a lot of things that I didn't realize that now I have to do, that I, you know, I guess took for granted that Larry might've done," she said. "Like simple things, taking out the garbage... With him still in California, you know, it's hard." Furthermore, their daughter Victoria visited Larry, and he still talks to their children daily. This photo from Larry Jr.'s Instagram indicated that he was in New York in April, which could indicate that he's living partially on both coasts at the moment.
So while it's still unknown just what Larry is up to, one thing is certain: both he and Theresa have been devastated from the split.