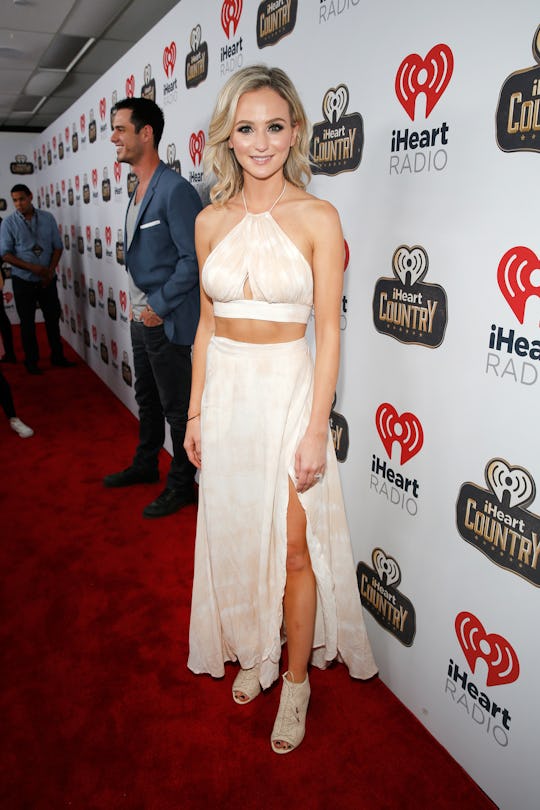 Rick Kern/Getty Images Entertainment/Getty Images
Here's What Lauren Bushnell Has Been Up To Since 'The Bachelor'
You guys, it's officially The Bachelor: Winter Games and if you're not watching it, you need to be. One of the contestants is none other than the brown-haired Ken doll himself, Ben Higgins, who got engaged to Lauren Bushnell at the end of his season. So what is Lauren Bushnell from The Bachelor doing now? Ben Higgins' ex is moving on after the two of them broke off their engagement.
Ben and Lauren met when Ben was the lead on Season 20 of The Bachelor. Fans watched him say I love you to Lauren and to JoJo, before finally breaking JoJo's heart and getting engaged to Lauren. The two stayed together for a couple of years and even had their own reality show, Ben & Lauren: Happily Ever After? with the shadiest question mark ever to exist. If you were watching the show, you could see the cracks in their relationship even though they loved each other.
The couple finally split up in the spring of 2017. Which brings us to 2018's Winter Games, in which Bachelor alums from all over the world come together in a small town in Vermont to try and find love again. Several previews of this genius piece of television tease Ben crying about his ex. So is Lauren quite as heartbroken?
Well one thing is for sure, and that's that at least this year Lauren probably won't be making an appearance on any Bachelor spinoffs. Lauren publicly announced her new relationship with an Instagram post with the words "ok cutie," overlaid with a picture of her new man. This was back in August of 2017, and since then she hasn't exactly been shy about their relationship on her social media. The lucky guy's name is Devin Anton, and clearly the two are having a great time together. Sadly, Ben is apparently not quite as thrilled with the relationship, though he's been nothing but gracious about it.
Editor's Note: The aforementioned Instagram post has since been deleted.
On his Ben and Ashley I. Almost Famous Podcast with none other than fan-favorite Ashley Iaconetti (my favorite person ever to compete on one of these shows), Ben was honest about how he felt about Lauren's new relationship. Then to Us Weekly he said:
I don't know a lot about the situation, honestly. From what I understand and from what I hear, she's happy. As hard as that is for me to think about — because it's still hard to think about and I think it would be hard for her to think about if I was in that situation.
On her Instagram, Lauren revealed that the couple went and got Christmas trees together and in the caption for the post thanked Tinder for "the intro," so at least it's clear that post-Bachelor contestants still have to go and meet people the same way the rest of us do.
In another post, she showed herself throwing Devin a surprise party, captioning the post: "HAPPY BIRTHDAY MY CUTIE. Thanks for letting me be your friend and girlfriend be being born in general. You make me the happiest ever and you deserve the world not just today but every day! I love youuuu." So obviously, Lauren is moving along after her long and highly public relationship with Ben. I'm a little disappointed because I really wanted to see her on Bachelor in Paradise or Bachelor: Winter Games but that's just because I'm selfish. I'm happy she's happy.
And at the very least the world gets Ben on Winter Games. And it looks like he's about to open up about where his relationship went wrong. I just hope he can find someone new this time.