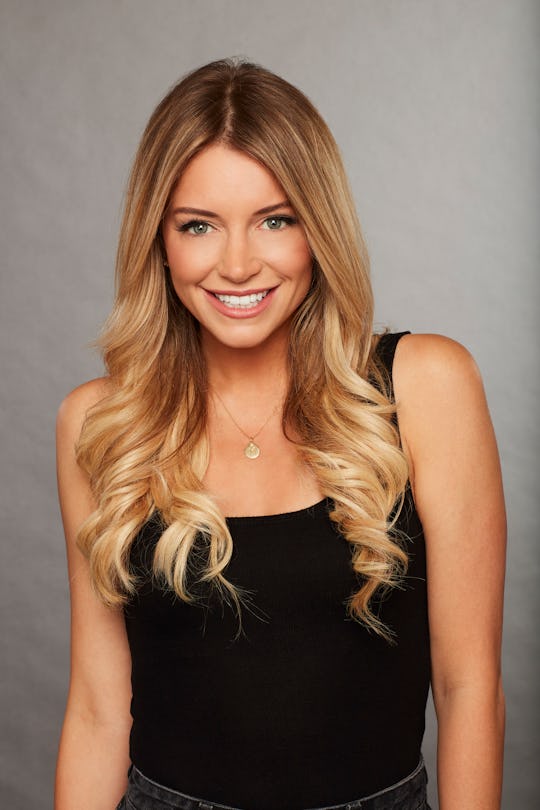 Craig Sjodin/ABC
Lauren S. Has An Interesting Career Outside Of 'The Bachelor'
On a show like The Bachelor, one-on-one dates — aka dates in the real world — are hot commodities. On Monday night's episode, Lauren S. got the coveted solo date with Arie. But what exactly do we know about her? For example, what is Lauren S.'s job outside of The Bachelor? Even Arie admitted he hasn't known gotten to know her very well, so it's safe to say that viewers don't know her well. During their date the two went to a winery to drink a lot of wine and have dinner, where Lauren revealed a lot about herself. Unfortunately, though, Arie didn't see the chemistry between them... so what job will Lauren be going back to?
According to her ABC biography, Lauren is a social media manager from Dallas. The 31-year-old would want to be "literally anyone in Taylor Swift's girl squad" for a day, and her favorite author is JK Rowling. On her LinkedIn page, Lauren lists her current job as Senior Public Relations and Social Media Manager at AT&T; prior to that, she was Public Relations Manager at the company. She graduated from Baylor University with a BA in communications prior to entering the working world. From her Instagram account, Lauren looks like she definitely has social media down — which, considering it's her full-time job, is no surprise.
On Monday night's episode, Lauren S. received the third one-on-one date of the season. The two went to a winery and then to dinner, and while she said it was a "very Lauren S. date," sparks didn't really fly. In a confessional, Lauren said she wasn't really acting like herself at dinner. She kept talking about her family, which Arie was receptive to hearing, but he didn't seem too engrossed in the conversation (he actually started eating his food, which is very rare on The Bachelor).
Arie felt the lack of chemistry as well, and decided not to give her a rose.
Unfortunately, this is how it goes in Bachelor Nation. The leads need to start making "tough" decisions, and this seems to be the first of Arie's season. I can't lie, I can see that Arie is vibing with other women better. Even during Monday night's episode, the contestants who were on the group date seemed to have more chemistry with Arie than Lauren S.
On the first group date of the episode, which was based on GLOW (Gorgeous Ladies of Wrestling), Arie gave the rose to Bekah, a nanny from Los Angeles (and my personal favorite this season, but that's just me). On the second group date, which was trying to tame dogs that weren't well behaved, Arie gave the rose to Chelsea. Chelsea started drama pretty early in the season, aka during the premiere, because she ended up talking to him twice in one night. While the other contestants weren't impressed, Arie seemed to be into it: he gave Chelsea his first impression rose.
From where I'm standing, I think Bekah and Chelsea have a good chance of lasting long in the competition. The latter especially, seeing as the contestants who had first impression roses last year on The Bachelor and Bachelorette — Rachel then Bryan — came third in the competition and won, respectively. In the case of Rachel, while she didn't win, she became The Bachelorette... which is a pretty great consolation prize, if you ask me. Regardless, the show seems to be at the point where Arie just can't give anyone a rose. He has to have a solid connection with everyone, and he didn't feel that with Lauren S. I'm sure one day she'll find that special someone, even if he's not a race car driver turned real estate agent.
Check out Romper's new video series, Romper's Doula Diaries:
Watch full episodes of Romper's Doula Diaries on Facebook Watch.