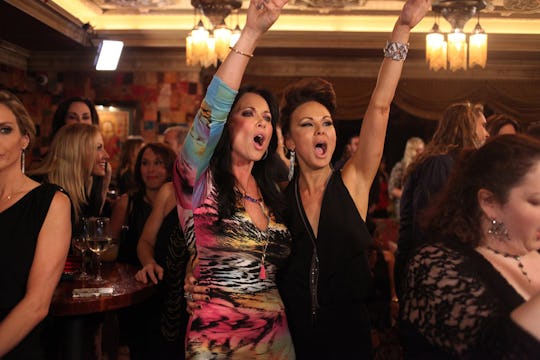 Bill Matlock/Bravo
What Is LeeAnne Locken's Net Worth? The 'Housewives' Charity Queen Is About To Get A Raise
In the premiere episode of The Real Housewives of Dallas, LeeAnne Locken emerged as the franchise's probable Queen Bee. At the very least, she is the reigning queen of the charity world. Charity is something LeeAnne takes extremely seriously, as she made abundantly clear in her clash with fellow Housewife, Brandi Redmond, when she chastised her for her behavior at a charity event. LeeAnne noted that she is known as "the mouth of the south," a moniker she's not entirely dissatisfied with. She also noted that she is not quite as fabulously wealthy as some of the other ladies on the show. At one point in the premiere episode, we are treated to a shot of LeeAnne's home. It's not a shack by any means but next to, for example, Stephanie Hollman's palatial estate on the Four Seasons golf course, it looks downright humble. So what is LeeAnne Locken's actual net worth on Real Housewives of Dallas?
It's hard to state exactly. The-net-worth.com estimates her net worth at around $2.5 million, although that's not necessarily the most accurate representation of her net worth. Other sites, on the other hand, such as celebrity.money.com have no number for her at all. It's also a little unclear what she does professionally. At one point, Housewife Cary Deuber cracks that LeeAnne is always working at these charity events, "I think it's her job," she says. But, while volunteering is a very noble and morally fulfilling job, it is not known to be a particularly lucrative career.
We do know that LeeAnne has been working in television and movies for many years. The most well-known movie she has been a part of was Miss Congeniality, where she played Kelly Beth Kelley, Miss Nebraska. You may remember her as the contestant who made balloon animals for her talent. She has been in a number of national commercials, one of which was chosen by ABC as one of "America's Funniest Commercials." This isn't her first stint as a reality TV star, either. LeeAnne came in third place on TV Land's She's Got the Look, a modeling competition for models over 35. She was also a guest star on Big Rich Texas, representing the charity The Fashionistas, a charity that supports up and comers trying to make it in the fashion industry.
Clearly all of this hard work and dedication to the world of television has paid off. I have a feeling that LeeAnne's bank account, however modest it may appear to her now, is about to skyrocket.