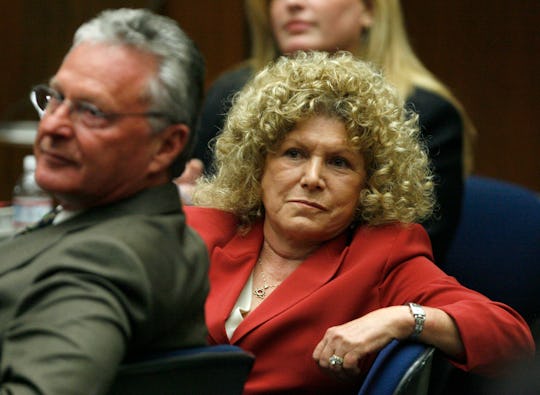 Pool/Getty Images News/Getty Images
Leslie Abramson Leads A Quiet Life These Days
Law & Order is dipping its toes into the anthologized true crime genre, à la Serial and American Crime Story, and for its first season, it's tackling the 1993 trial of the Menendez Brothers. Lyle and Erik Menendez were 21 and 18 years old, respectively, when their parents, José and Kitty, were murdered in their Beverly Hills home. Their defense lawyer, played by Edie Falco on the series, was known as a bulldog in the courtroom. But what is Leslie Abramson doing now? The former criminal defense attorney is enjoying a quiet life just outside Los Angeles.
The prosecution in the Menendez case alleged that the boys spent around $1 million in the first six months after their parents died, which was enough to spark a media frenzy surrounding the trial. Wealthy young men who murdered their parents for the money was an instantly compelling narrative, and when the lurid details of alleged sexual, physical, and emotional abuse came out, audiences only became more fascinated. In their first trial, which was memorably televised, juries for both brothers deadlocked along gender lines. Women believed their all-female defense team, who argued that the boys killed their parents after a lifetime of abuse and thus deserved leniency, while male jurors voted for conviction. The case was immediately retried and both brothers were convicted on two counts of first-degree murder and conspiracy to commit murder. Erik and Lyle were sentenced to life in prison without parole.
Heading up their defense team was Abramson, a former lawyer with the Public Defenders office who received her law degree from UCLA. She was named trial lawyer of the year twice by the L.A. Criminal Courts Bar Association before the trial, and her representation of Erik came on the heels of acquitting a 17-year-old boy named Arnel Salvatierra, who had been accused of murdering his father. Like with the Menendez brothers, she argued that Salvatierra had been abused, which eventually earned her a not guilty verdict.
The Menendez trial proved trickier because Erik had confessed to the murders in a session with his psychologist Dr. Jerome Oziel. Prosecution wanted the tapes of Erik's sessions admitted into evidence while Abramson argued that they were protected under doctor-patient confidentiality. She lost her motion, however, and the tapes were eventually admitted in court.
Abramson also caused a dust-up during the penalty trial when she was accused of tampering with evidence. Erik's new psychiatrist Dr. William Vicary — her expert witness — claimed that he had deleted some of his notes about Erik "under pressure by the defense." This triggered a three-year investigation into Abramson for potential ethics violations, which was later dropped due to insufficient evidence.
In 1997, she published a memoir titled The Defense is Ready: Life in the Trenches of Criminal Law, and she even went on to represent one more high-profile client. In 2004, she replaced Robert Shapiro (yes, the same one from O.J. Simpson's dream team) as Phil Spector's lawyer in a murder case where he was charged with killing his girlfriend, actress Lana Clarkson. Abramson eventually resigned and Spector was found guilty.
She and her husband, Los Angeles Times staff writer Tim Rutten now live in the San Gabriel Valley. She has two adult children, a daughter from a previous marriage and a son she adopted toward the end of the Menendez trial. According to Falco, Abramson has distanced herself from the law. "I spoke to someone who worked with her during the time that all this was going on," she told Entertainment Weekly. "This kind of broke her heart. She's not doing this anymore. She now works in a toy store, apparently."
However, Abramson does occasionally make public appearances. She delivered the 2015 Ruth Bader Ginsburg Lecture at San Diego's Thomas Jefferson Law School during their annual Women and the Law Conference. During her lecture, Abramson reportedly said, "What I think is something necessary to be a great criminal lawyer is something I think women already have, a desire to understand people and human relationships."
Watch Romper's new video series, Romper's Doula Diaries:
Check out the entire Romper's Doula Diaries series and other videos on Facebook and the Bustle app across Apple TV, Roku, and Amazon Fire TV.