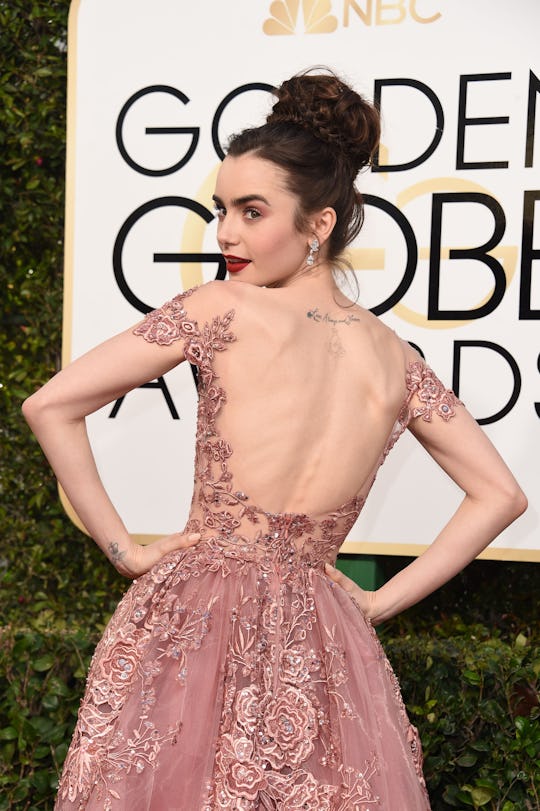 VALERIE MACON/AFP/Getty
Lily Collins' Tattoo Is Eye-Catching At The Globes
One of my personal favorite looks from the 2017 Golden Globes was from Lily Collins, who looked like a ballerina fairy princess in her floaty pink gown, and was not afraid to show off some of her ink. So what is Lily Collins' tattoo? She showed off her beautiful artistic tattoos in her red carpet ensemble, particularly the one on her back, and it looked fabulous.
On her shoulder blades, Collins has had a tattoo reading "Love always and forever" written in her own handwriting for a while now. But recently, she made an addition to her beautiful back. It's a sketch of a woman sitting on a lily pad, and is definitely one of the more charming tattoos I've ever seen. According to Collins' Instagram account, this new ink is a homage to her recent trip to Korea, which clearly meant a lot to the actor.
Collins shared a photo of the tattoo on Instagram with a caption that read, "Flashing some back for #fbf. A beautiful keepsake from an incredibly memorable Korean adventure. Thank you @tattooist_doy for adding your artistry to my personal collection. Self love is the most important kind." With a beautiful piece like this on my back, I would pick a gown to show it off as much as I could as well.
These are not Collins' only tattoos, and it's clear this woman is not afraid of the needle. She also has a fairy tattoo on her ribcage, a rose on her foot, and a crown with angel wings on her wrist. While traditionally tattoos were a symbol of general badassery, Collins' tattoos are very fitting to her overall persona. Collins often plays the ingenue, or sweet, angelic characters, but there's definitely an edge to her, even being as ethereal as she is.
Collins was nominated for Best Performance By an Actress in a Motion Picture, Musical or Comedy for her work in the film Rules Don't Apply with Alden Ehrenreich and the legendary Warren Beatty, who plays the irascible and eccentric Howard Hughes who owns the film studio where they both work. As she said in her red carpet interview, this is hardly Collins' first time on the red carpet. The daughter of music legend Phil Collins, she practically grew up in Hollywood, and can remember coming to this very spot for lunches and dinners growing up. It's her neighborhood, so she said it felt very good to be there. And, obviously, she looks amazing and right at home.