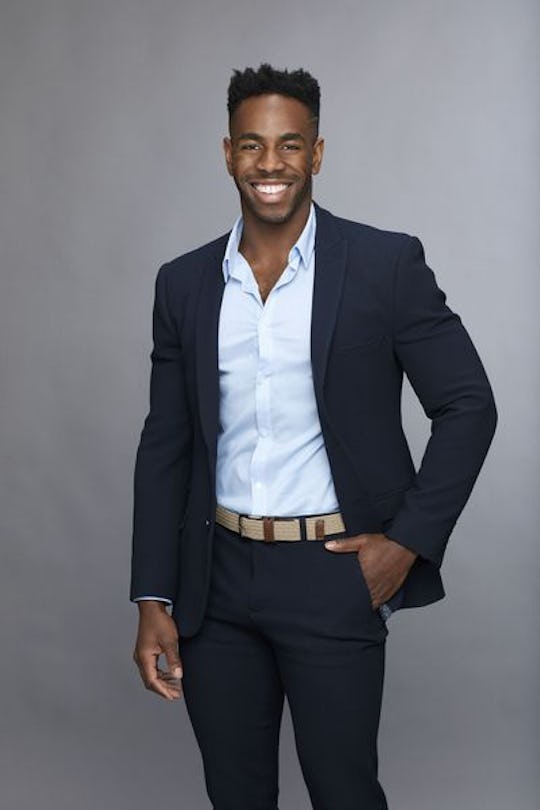 Craig Sjodin/ABC
Lincoln's Time On 'The Bachelorette' Could Be Coming To An End
This week's episode of The Bachelorette included a bit of drama between two contestants during one of Becca's group dates. The contestants in question were Lincoln and Connor. Lincoln won the obstacle course challenge, though many believe it seemed pretty obvious he cheated, and got a photo of him and Becca as well as a kiss, both of which enraged Connor. Despite their drama, both men are still in the game, but some fans can't help but wonder what is Lincoln doing now?
According to his profile on The Bachelorette site, Lincoln is an Account Sales Executive from Los Angeles, CA, though he's originally from Nigeria (hence the accent). Because he's still competing on the show and producers do their best to keep spoilers under wraps, it's hard to say what exactly Lincoln is doing now. It's possible he's just returned to his job in Santa Monica, or maybe he's decided to do something else now. In either case, unfortunately for Lincoln it's unlikely he's living his happily ever after with Becca.
While spoilers aren't 100 percent reliable, according to Reality Steve, Lincoln gets into another fight later on this season, and this time he could end up being painted as the villain. According to the site, Lincoln gets into it with fellow contestant Chris after he reportedly leaves a group date because he felt he wasn't getting enough alone time with Becca.
Lincoln then reportedly tells Chris that Becca "would only be into him if she were a lesbian because of Chris' girl body, called him a woman, said he needed a tampon and also called him a fat f*ck." Yikes -- that is not cool. Of course, it doesn't end there. Chris then retaliates by telling Lincoln he wants to go on a 2-on-1 date with him because it would be an "easy road," and then accuses Lincoln of taking steroids. Chris also alleges Lincoln and another contestant were talking poorly about Becca behind her back. Still, according to Reality Steve, Chris will be eliminated first in episode five, with Lincoln, along with Connor, being eliminated soon after in episode six.
In addition to these alleged spoilers, there's also a strong belief that it'll be Garrett who ends up winning the season, despite all the backlash against him. Last month, screenshots began circling alleging Garrett had liked a number of posts from a conservative Instagram page that mocked immigrants and Parkland students. Garrett has since deleted his Instagram account, but prior to deleting he posted a statement on the app apologizing for his actions.
"I never realized the power behind a mindless double tap on Instagram and how it bears so much weight on people's lives," he wrote. "I did not mean any harm by any of it My Instagram 'likes' were not a true reflection of me and my morals."
On top of Garrett's apology, Becca has also come to his defense, asking viewers to keep an open mind while watching the rest of the season. "I wanted to just be open to everyone, and I hope that the viewers can do the exact same thing," she told The Hollywood Reporter. The fact that Becca is making such an effort to convince viewers to stay open minded, along with the fact that Garrett got the first impression rose this season, a clear indication that he's a front runner, has many fans believing Garrett is going to win Becca's heart. Because if Garrett doesn't win, why would viewers need to keep an open mind about Garrett? He'd be leaving the show anyway.
Thus, it looks like Lincoln will be going home without the final rose. Still, that doesn't mean he won't pop up again in The Bachelor franchise. Fans will just have to wait and see what's next for Lincoln.
This article was originally published on