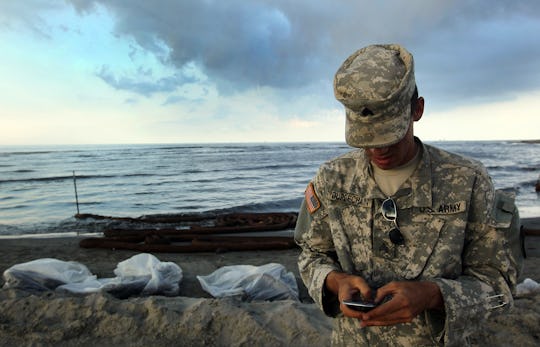 John Moore/Getty Images News/Getty Images
What Is LiveSafe? The Navy App Will Help Prevent Sexual Assault
The occurrence of sexual assault within the U.S. military isn't discussed as much as it should be. When you consider that, in 2014, it was reported that more than 20,000 service members were victims of violence, it becomes clear that the issue is possibly more pervasive than many had previously believed. These alarming rates haven't gone unnoticed though, and now the U.S. Navy is acknowledging the problem in the armed forces and is working on a new app called LiveSafe that will hopefully help prevent sexual assault from happening on duty in the first place, and allows sailors to report any suspicious activity they may come across as well.
The LiveSafe app ― originally developed to help prevent on-campus gun violence in 2014, specifically as a response to the tragic mass shooting at Virginia Tech in 2007 ― will allow sailors to communicate their whereabouts with their family or friends, along with emergency services and their superiors, by sending them their locations from their smartphones, which can then be tracked by other app users.
The Navy recently launched a six-month trial for the app and it's currently being tested by 45,000 sailors based in Hampton Roads, off the coast of Virginia, and Rota, Spain. According to Business Insider, the app is being tested in those two locations "because of the high concentration of sailors — especially junior sailors," who are the app's targeted users. If the outcome proves to be successful in those areas, the Navy could implement the app at bases around the world.
The app is free to download now and operates by GPS, allowing sailors to send their location to another person, who would then virtually "walk home" with them if they feel unsafe or are in a vulnerable situation. Users can also anonymously report suspicious or criminal activity, ideally to prevent an assault from happening, as well as access emergency and counseling services.
Additionally, The Virginian-Pilot reports that Navy officials also can send out a geographically based alert that tells sailors they're in a forbidden zone in the event of an emergency.
Military.com reports that the Navy invested $150,000 in the new smartphone app, much of which will go towards developing LiveSafe's original interface and content to meet the Navy's needs.
While that price tag may seem a bit high to some, Capt. Charles Marks, who is also the U.S. Fleet Forces Command's sexual assault prevention and response officer, told the website that it's actually a cost-effective answer to the problem:
When you think about what it costs to respond to one sexual assault — you think about providing medical services, doing the investigation, doing the legal processing, providing all the victim advocacy services, the amount of time the chain of command spends in reviewing and overseeing these cases and then executing the potential disciplinary action — that one case is significantly more than the cost for the pilot.
A 2015 Department of Defense study found that 23,000 military members — both men and women — were sexually assaulted on duty; generally speaking, those assaults happen more often in a military context. Additionally, only 20 percent of those cases were prosecuted by the military and just 9 percent of offenders were convicted.
With the Navy ready to take action, advocates and military members alike are hopeful that the implementation of this app will truly change the statistics behind sexual assault for good.