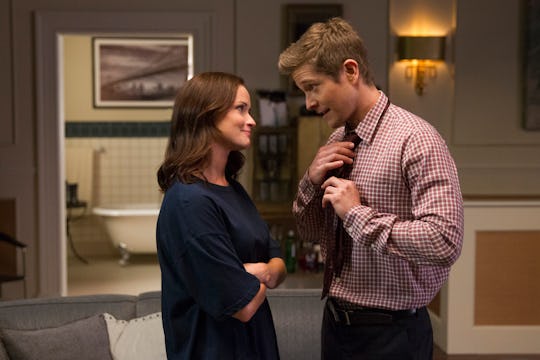 Saeed Adyani/Netflix
What Is Logan's Job On The 'Gilmore Girls' Revival? He May Have Joined The Family Business
Although the Gilmore Girls revival was great, it did leave fans with a lot of questions, starting with those last four words. At this point, the general consensus is that Logan is the father of Rory's baby, but I think the real mystery here is what is Logan's job on the Gilmore Girls revival? Logan appeared in all four episodes of the revival and yet it was never clearly stated what his actual career ended up being. When Season 7 came to a close, fans saw Logan leave to go to California to accept a job offer there after Rory turned down his marriage proposal. So how'd he end up in London and what exactly is he doing there?
My best guess is Logan ended up back in the family business. At the end of Season 6, Logan had finally agreed to his father's wishes and decided to join the family business by moving to London to start his working life. Although Logan had always been against working for his father, he actually turned out to be good at the job... until he wasn't. After making a bad investment into a new media company and losing millions of dollars, Logan decided the family business wasn't for him after all.
Except somehow Logan ended up back in London in the revival and the fact that he and Rory run into his father, Mitchum, seems pretty telling about what Logan's doing these days. It isn't ever explicitly stated, but it definitely seems like Logan ended up working for his father once again, which is interesting since viewers later discovered that Christopher ended up doing the exact same thing. Is this another parallel between Logan and Christopher? It definitely seems that way.
If Logan really is working for the family company, one has to wonder if that's partially why he's with Odette. No offense to Odette, but it's obvious Logan still loved Rory, which begs the question — why didn't they both just break up with their significant others and be together? For Rory, she clearly just forgot Paul even existed, which is terrible. But then again, I forgot Paul existed too, so I can't really blame her. As for Logan, maybe Odette was the family approved choice.
Fans will never forget how badly Logan's family treated Rory the first time they met her and how Mitchum manipulated her later on. And truth be told Rory wasn't exactly successful in the revival, so it seems doubtful his family's opinions of her would've changed. Still, Logan never seemed to care about his family's thoughts on Rory in the past, but maybe now that he's older and ready to settle down, it matters to him more? The last time Logan proposed to Rory she turned him down and maybe he believed it wouldn't be any different this time around, so he hedged his bets with Odette instead.
With Odette, Logan will have the acceptable wife and if he is working for his father's company, he'll also have the acceptable job. Although it seems unlike Logan, he does at least seem happy with how his life turned out, so I guess we just have to be happy for him even I did want to see him end up with Rory.
Gilmore Girls: A Year in the Life is now available for streaming on Netflix.