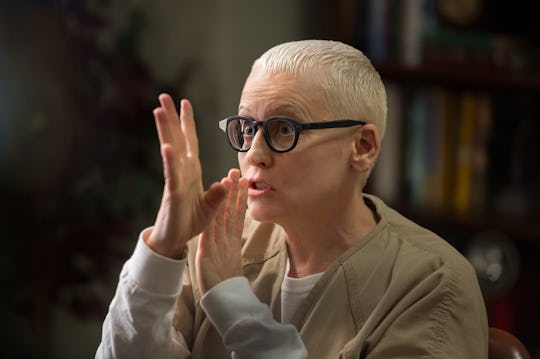 Netflix
What Is Lolly's Backstory On 'Orange Is The New Black'? She's A Mystery
When Lori Petty first appeared on Orange Is The New Black, it seemed like it might be a one off gig. She was only in a single episode of the show's second season, when she met Piper on a plane and ended up as the unfortunate recipient of a prison yard beating. She returned in Season 3 as an inmate at Litchfield and spent most of the season setting off Alex Vause's paranoia. Not much has been revealed about Lolly, but one of the hopes of Season 4 is that the show will explore her life before prison. What is Lolly's backstory on Orange Is the New Black?
So far Lolly's background has been a giant question mark. After transferring to Litchfield, Lolly keeps tabs on Alex, stirring up trouble when Alex assumes that Lolly is working for the drug kingpin who's after her. Alex attacks her, but it turns out Lolly's careful observations have nothing to do with Alex's past. Lolly is actually convinced that the NSA is watching her, something Alex later uses to her advantage to get Lolly on her side. OITNB likes to devote episodes to certain characters to explain where they came from and how they ended up at Litchfield, but Lolly hasn't been treated to a solo episode yet. Her backstory remains a mystery.
A review of Season by The Telegraph doesn't say whether Lolly's background will be elaborated on, but it hints at darkness in Lolly's present. She may know something about what went down with Alex and Kubra's henchman Aydin at the end of Season 3, and it looks like she's unravelling; the review calls Lolly "frighteningly unhinged." Lolly might be helping Alex cover up something huge, making their tentative bond from last season a lot more important.
Lori Petty is a big name on her own as an actress and director, so it stands to reason Orange Is The New Black wouldn't bring her on board if it wasn't going to pay off in a big way. The show might have a huge ensemble with a lot of characters to work their way through, but if Lolly takes up more prominence this season, there's a good chance the show will finally reveal some details from her past.
Even if not much is known about her now, the show might still take her in unexpected directions. Lolly is a character with a lot of potential and it would be great to see the show utilize that.