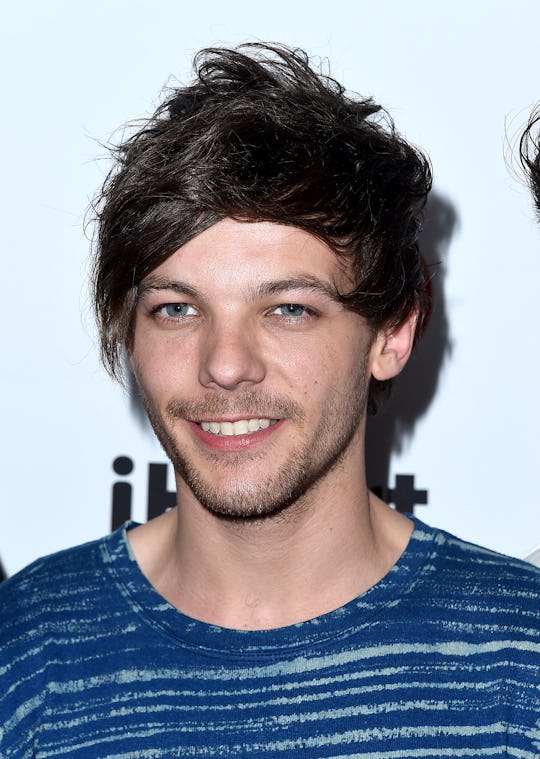 What Is Louis Tomlinson's Son's Name? The One Direction Star Confirmed The Baby's Birth
One Direction's Louis Tomlinson and stylist Briana Jungwirth welcomed their first baby boy Friday in Los Angeles, People confirmed. Louis Tomlinson's son's name remains unknown so far. Tomlinson, 24, has yet to speak out on the birth of his son, and Jungwirth has remained equally mum, but Tomlinson's former stepfather, Mark, tweeted Friday, "Is that the patter of tiny feet?" Cue One Direction fans losing their minds, because the first One Direction baby is finally here, people.
The One Direction singer remained rather private about his child during Jungwirth's pregnancy, only telling Good Morning America and STV Glasgow that he's "excited" to meet the tyke. One Direction has taken an extended hiatus, however, and Tomlinson has reportedly moved to LA from the UK to be closer to his son and Jungwirth, according to Inquisitr.
As for Tomlinson's baby's name, one can only guess. Or can we? Apparently, in 2012, he revealed that he had an affinity for a couple of boy names, according to Sugar Scape. Tomlinson told Top of the Pops, "I've always quite liked the name Leo. If I had a boy, I'd quite like to call him Leo, but I like Lucas as well." Unless he's changed his mind or Jungwirth has nixed the name, could we be expecting a baby Leo Tomlinson?
Tomlinson and Jungwirth are no longer romantically involved, but they dated briefly last May before separating and are still close, according to People. Lately, Tomlinson has been linked to Originals actress Danielle Campbell, recently visiting her hometown of Chicago with her.
It's worth noting that Tomlinson's reps haven't actually confirmed a birth yet, so One Direction fans have been creating a storm of rumors and second-guessing on Twitter. A lot of the hype comes from Instagram and Twitter accounts linked to Jungwirth's mother and grandmother, but — again, those accounts remain unconfirmed. Amid the great, unconfirmed-by-reps news, some fans are waiting for answers before getting excited:
Either way, a Tomlinson baby might be the cutest thing to happen this Friday.
This story is developing...
Image: Steve Granitz/Getty Images Entertainment