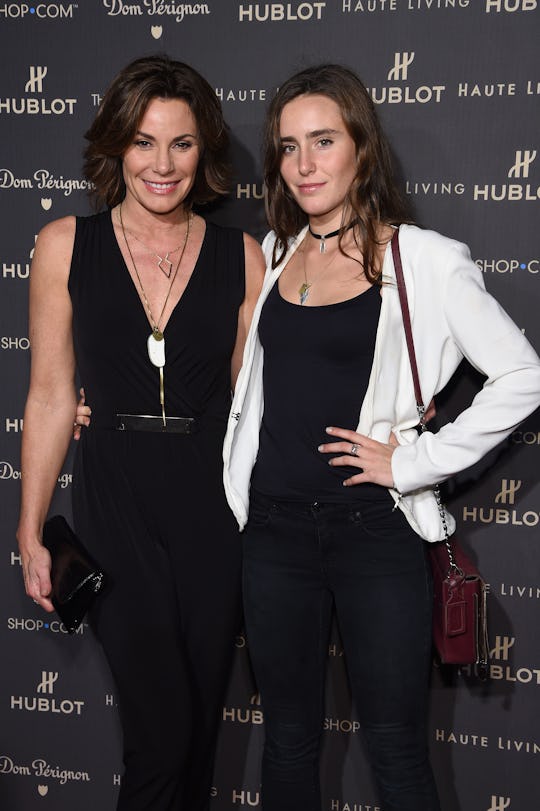 Dimitrios Kambouris/Getty Images Entertainment/Getty Images
What Is Luann De Lesseps' Daughter Victoria Doing Now? She Has Artistic Interests
A lot of the women on The Real Housewives of New York City are dealing with a little bit of empty nest syndrome this year; most of their kids are old enough to be off having their own adventures, leaving the ladies alone to explore the next chapter of their lives. For Luann de Lesseps, that involves embarking on a second marriage with businessman Tom D'Agostino. But for as much as Luann advertises that part of her personal life on the show, she usually keeps her kids out of the limelight, giving them what's sure to be much-needed privacy. However, now that Noel and Victoria are older and Luann is getting married, what's up with the de Lesseps family? What is Luann de Lesseps' daughter Victoria doing now?
Victoria, now 21, is an artist, a passion she shares with her brother Noel. On her personal website, Victoria describes herself as "a singer by night, graphic designer by day, a video vixen, an experimental painter, and a professional doodler." She sells art from her site (for a pretty penny, I might add), which also gives a nice look at the range of work she produces. There's no denying Victoria has real artistic talent.
Though Luann claims not to have any artistic talent of her own, both of her children have turned to creative fields; Noel is currently attending the Maryland Institute College of Art. Victoria dabbles in many different kinds of art, from pencil drawings to paintings to digital work and photography. Her Instagram features a fair amount of fashion drawings, so Victoria definitely seems to extend her creativity to multiple fields.
She even had her art featured in Art Basel in 2014, an event attended by her mother and Bethenny (who must've been on better terms at the time). Back in 2012, Luann spoke about her pride in her daughter's work to Bravo's The Daily Dish. "I'm just blown away by her passion and by her ability and detail and her gift," Luann said, back when Victoria was only seventeen and already off to a great start. She sells Victoria's art from her official site as well.
Victoria also popped up in Nick Jonas' video for "Chains," which was directed by artist Peter Tunny. He decided last minute to include Victoria after she and her mother visited him in Miami. "Peter said, 'Victoria has to be in the video,'" Luann told E!. "I changed her flight home so she could do it. She wore one of my dresses. All we had to do was buy her a pair of shoes."
It's clear that Luann is totally supportive of her kids' artistic endeavors, which can be really important when a kid is starting off in an unusual field.