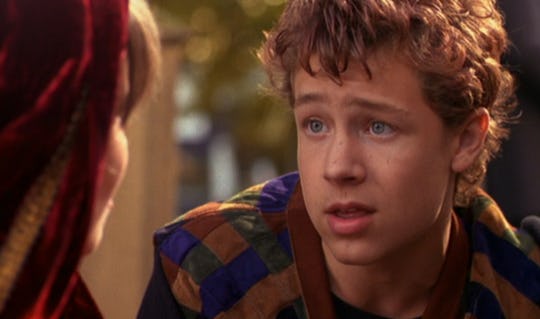 Disney Channel
Whoa, You Need To See What Luke From 'Halloweentown' Looks Like Now
As the leaves turn and the weather gets chillier, there's no better way to pass the days until Halloween than a repeat viewing of one of the greatest Disney Channel original movies of old: Halloweentown. But taking that trip into the past brings with it one inevitable question: where are they now? Specifically, what is Luke from Halloweentown doing now? The goblin who helped out Marnie co-starred in two films in the series before stepping away from it, but he still left an impression thanks to his turn from villain to ally (not to mention his unresolved crush on Marnie). So what is he up to these days?
Phillip Van Dyke is no longer working as an actor, but he'd snagged a few more memorable roles before saying his goodbye to the profession in 2003. He voiced the titular character of the greatest cartoon of all time, Hey Arnold!, for several years and then took on a few guest starring parts in several shows for an episode or two. He appeared in The Amanda Show, Without a Trace, Boston Public, and NYPD Blue — basically a sampler's platter of network television in the early '00s. But if you don't remember him from any of those shows, then perhaps you recall the single episode of Gilmore Girls he appeared in, where he played a young Christopher Hayden in the flashbacks in "Dear Emily and Richard."
In the years between departing from Halloweentown and now, Van Dyke has been devoting himself to his family. In a 2015 interview with Bustle, he explained that while he met his wife Jennifer when he was fifteen years old, they didn't get together officially until a few years later — but they've been together ever since. Van Dyke is also a father of three: he has an older daughter named Paris from a prior relationship, then a son named Flynn and daughter named Remy with his current wife. The older kids are definitely familiar with his acting past, even if Van Dyke is no longer performing. Lucky for them their dad's roles are highlights of the era; those Hey Arnold! life lessons must hit home all the harder when it's your dad's voice delivering them.
According to Instagram, Van Dyke spends his free time wine-tasting and rock-climbing, though he's also tackled a brand new career. "I run a sales floor for a financial services company," he told Bustle. "We help investors from all around the world buy and sell stocks, currencies and commodities. I manage the whole sales floor, but I also take appointments and deal directly with larger clients who are investing significant sums of money."
Van Dyke appears to have built a very normal life away from the lights and cameras, but that doesn't mean he's opposed to returning to the franchise that endeared him to so many fans. He told Bustle that if the opportunity for a Halloweentown reunion ever arose, he might be up for stepping into those goblin shoes one more time. "Just for the fun of it, and also to take my kids along and show them what it's like working on a movie or television show," he said.
While there doesn't appear to be a revival in the works yet (a tragic missed opportunity, in my opinion), never say never. With every other classic from days gone by getting another chance in the spotlight, it might just be a matter of time until it's Halloweentown's turn again. And just in case that magical day ever comes to pass, it's good to know that a few members of the cast might be open to taking the trip across dimensions again.