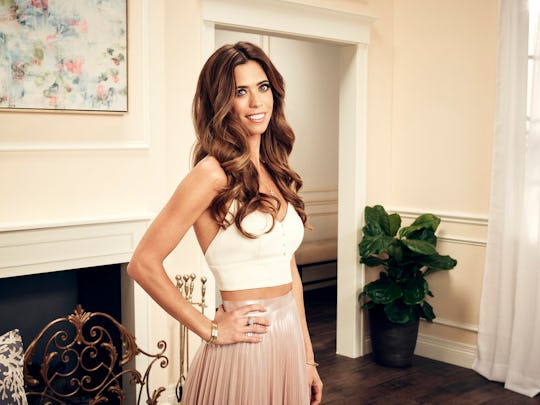 Tommy Garcia/Bravo
'RHOC's Lydia Has Made A Name For Herself In Publishing
When it was announced that Lydia McLaughlin would be returning to The Real Housewives of Orange County after a three year absence, fans were looking forward to seeing what she's been up to in the time since she left. She's now a mom of three boys, has moved into a new home (away from Judy, her eccentric, marijuana-smoking mother) and has launched a new magazine with her husband, Doug. Yeah, basically she's been up to a lot, so what is Lydia's magazine on Real Housewives of Orange County? It's referred to as a "high-end men's magazine," which reall does seem to fit with everything we know about Lydia.
Per her official bio on Bravo's website, Lydia and Doug put all their resources into the magazine, which is called Nobleman. (Although I'm not fully sure what "all their resources" means.) Nobleman specializes in luxury menswear, and the magazine's very sleek site offers a very suitably sleek description:
NOBLEMAN is a magazine designed for the gentlemanly alpha male, the leading man who is confident, capable and truly appreciates the finer things in life. He is not one to beat his own chest; the NOBLEMAN is humble despite his great achievements, and always eager to discover and learn. He possesses his own individual style, but also endeavors to keep up with ever-changing fashion trends; however, he is never a fashion victim.
The Nobleman website is extremely well-tailored to its audience, with sections on gorgeous Californian home design, the kind of food and beverages only the very privileged can afford, and something called "elite travel," which seem to just to feature the sorts of destinations normal people could only dream of. It offers such helpful advice on how to "Claim Your Legacy" and "Drink Like a Gentleman," which are two things I know I'm wondering about on a daily basis.
The publication only has four issues a year, and for just $80, they can all be yours. For the real fans, you can just cut out the middleman and get a two-year subscription for $160. Maybe mere mortals can only dream of the Nobleman lifestyle, but at least owning the magazines could make it a little easier to pretend.
While I don't know how much of a role Nobleman will play in Lydia's storylines this season, her Instagram proves that it is currently a big part of of her life. I can only thank her for her devotion to teaching the world how the other half lives.