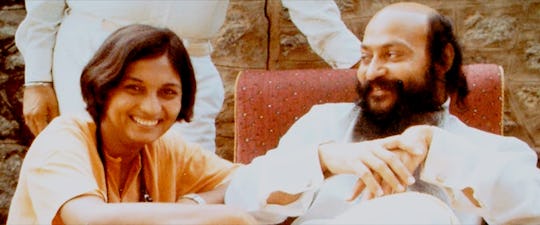 Netflix
'Wild Wild Country' Explores Ma Anand Sheela's Involvement With The Rajneeshees
Netflix's new docuseries Wild Wild Country explores the escalating tension between a religious group known as the Rajneeshees and the conservative Oregon natives who lived near their community. One of the most important figures in the story is Ma Anand Sheela, who was personal assistant and often the spokesperson for the group's leader Bhagwan Shree Rajneesh. But what is Ma Anand Sheela doing now, after the events depicted in Wild Wild Country?
Sheela became involved with Rajneesh after moving to India with her first husband Marc Harris Silverman, and she's been credited with encouraging Rajneesh to relocate to the United States. They purchased the site in Wasco County, Oregon which would become the commune known as Rajneeshpuram. Sheela was often the one dealing with the conflict that emerged between the Rajneeshees and the surrounding communities, as well as handling interviews. She was also involved in the group's criminal activities, which would come to light as time went on.
After the food at several restaurants was infected with salmonella in Oregon in the mid-80s, over 700 people became sick. It was revealed to be a plot of the Rajneeshees' to make the populace too sick to go to the polls and vote, because they had been trying to gain more influence in local politics. Sheela had gone to Germany, where she was arrested in 1986 for immigration fraud and attempted murder, later receiving time for assault and conspiracy. She served less than two years before she was released, though the sentence had been for three consecutive 20-year terms.
After her release, Sheela relocated to Europe and began working in restaurants in Germany and Portugal. She eventually settled in Switzerland because, as The Oregonian reported, it provided her safety from extradition in case U.S. authorities wanted to serve her with new charges. She found a job as a caretaker there, which led to the eventual purchase of two homes for the mentally disabled. Per The Oregonian, she was still running them in July of 2017.
Sheela published a memoir about her time with the Rajneeshees called Don't Kill Him!: The Story of My Life with Bhagwan Rajneesh. When she had initially left the Rajneeshees to go to Germany in the '80s, Rajneesh had accused her of arson, attempted murder, telephone tapping, and theft of funds, which she discussed both in the memoir and in an interview with India Today. Sheela denied having stolen any money, and talked about her growing disillusionment with the group:
It was bound to happen, wasn't it? It's like needing a doctor when you are sick. When people are not sick, where is the need for a doctor? I had had enough of him. I was in love with him all these years but things just crystallized over that time. There were no specific instances which escalated matters but it kept building up till I reached a stage where I decided to go on my own. He is a desperate man. I took care of all his needs so he had no worries, no complaints and could look good. And I was under incredible pressure running that huge outfit. Our monthly budge alone was two-and-a-half million dollars and I ran it in great style.
Sheela remarried to Urs Birnstiel, who has since passed, and seems to live a relatively quiet life in Switzerland, or at least a life very different than the one she led while in Oregon. She is one of the people interviewed for Wild Wild Country, so curious viewers will get to hear her version of events firsthand as well as see what her life is like now.
Check out Romper's new video series, Romper's Doula Diaries:
Watch full episodes of Romper's Doula Diaries on Facebook Watch.