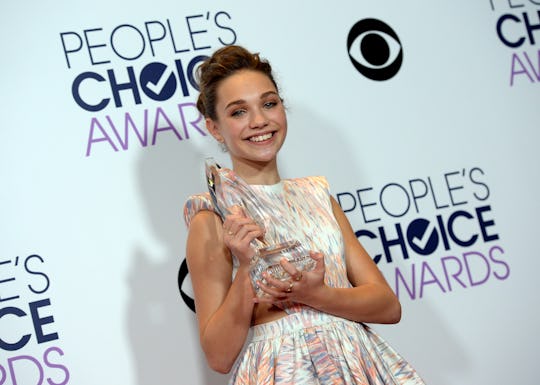 Kevork Djansezian/Getty Images Entertainment/Getty Images
What Is Maddie Ziegler Doing Now?
Maddie Ziegler, who is possibly best known as a dancer in several Sia music video productions, has quite the career going for her at a pretty young age. At just 14 years old, she's already an accomplished dancer, and she's also been on Lifetime network's Dance Moms. In addition, she's been a judge on So You Think You Can Dance. Basically, her IMDb page is already pretty impressive, and she's not even old enough to drive. So what is Maddie Ziegler doing now? These days, she's getting into modeling, and she's in a movie coming out very soon.
According to The Hollywood Reporter, Ziegler has been signed with IMG Models, along with several other celebrity personalities and children of actors and artists. When the publication spoke to Ziegler about the new career developments in her life, she said:
I thought my whole life I was just going to be a dancer.
But it sounds like Ziegler will be much more than a dancer in the future, though she is of course talented enough to go back to that trade at any time.
Ziegler has a net worth of $5 million already, and a fashion line with her sister, The Maddie & Mackenzie Collection, launched in October 2014. No one can say the girl hasn't kept busy.
Speaking of keeping busy, Refinery29 reported that Ziegler will star in The Book of Henry, which will be released on June 16, 2017, according to IMDb. Refinery29 reported that the movie focuses on an 11-year-old boy by the name of Henry (Jaeden Lieberher), "who is so smart his teachers want to put him in gifted classes, but he chooses to stay back so he can work on his social skills." The outlet reported that Ziegler plays his friend Christina, "who hides a dangerous secret." Sounds ominous.
In late March, Ziegler shared the trailer for the new movie on her Twitter account, and tweeted, "I'm so proud to finally share @TheBookofHenry trailer with you! @jaedenlieberher @jacobtremblay #naomiwatts @colintrevorrow #TheBookofHenry"
And though Ziegler's IMDb account doesn't show any upcoming film projects after The Book of Henry, if she enjoys acting, that likely won't be the last time we see her on the big screen.
According to Seventeen magazine, Ziegler was especially to give acting a chance by one actress in particular: Jennifer Lawrence. Of the Hollywood star, Ziegler said:
She's an amazing actor and can do anything. She can be really quirky and she's so funny in interviews I've seen. I'd love to see her do a Sia video parody—she would be amazing at 'Cheap Thrills'!"
And if Lawrence's career is the sort of work Ziegler would like to aspire to, she's certainly off on the right foot for her new endeavor.
Between dancing, modeling, acting, and a fashion line, Ziegler definitely has her hands full. But she's handled it all well so far, and if she sets her mind to it, there's no telling what new, exciting paths she'll head down in the future.