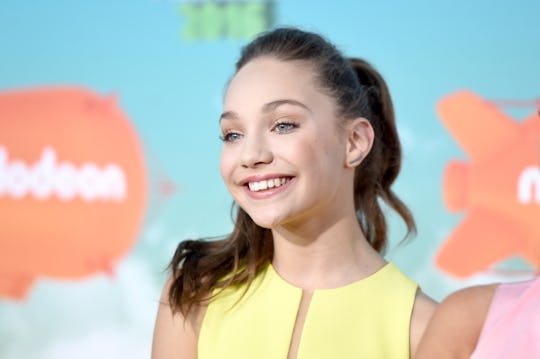 Jason Merritt/Getty Images Entertainment/Getty Images
'Dance Moms' Star Maddie Ziegler Has Done Well For Herself
Although it seems more like reality TV stars spend their lives getting paid to have fun on camera, it can also turn into a pretty lucrative career. Still, it's always surprising when one finds out how much someone like Maddie Ziegler is worth. Because, well, it's a lot.
In fact, since leaving Dance Moms in 2016, the young dancer is making even more dough by starring in movies, like the upcoming Book of Henry and Sister. According to Celebrity Net Worth, a site that estimates the net worths of different celebrities and public figures, puts Maddie's worth at somewhere around $5 million, but it could be a little more or a little less.
That's a lot of cash for a 14-year-old. Along with starring on Dance Moms since the age of 8, Maddie's also been a guest judge on So You Think You Can Dance, went on tour with Sia, and her memoir, The Maddie Diaries, is a New York Times bestseller. So it's not as if she's not hustling for her hard-earned money.
For Dance Moms, Maddie made about $2,000 per episode, which totaled about $400,000 overall. Although it hasn't been reported how much her collaborations with Sia or her movie gigs are pulling in, it's bound to push her towards that estimated $5 million mark, especially when you factor in her product endorsements for her social media accounts, which is surprisingly where many celebs pull in their big bucks these days anyway.
The young woman is certainly on her way to do big things. Her upcoming movie, Book of Henry starring Naomi Watts, is a pretty serious drama, and she plays a young girl who's been abused and is then helped by some good neighbors. And yes, she also dances in the film. Director Colin Trevorrow said that dancing helped Maddie tap into some of the darker themes on set.
"Only Maddie would've been able to emote through her body, and emote through her art, in the way that she does in the end of this movie. The whole climax of the movie really is structured around her dance and she does a beautiful job," he said. And Maddie herself has some great inspiration in Hollywood — she's reportedly a big fan of Jennifer Lawrence these days.
Maddie told Seventeen magazine, "She's an amazing actor and can do anything. She can be really quirky and she's so funny in interviews I've seen. I'd love to see her do a Sia video parody."
Now that she mentions it, Lawrence would be good at a Sia parody. Can we make this duo happen or what?