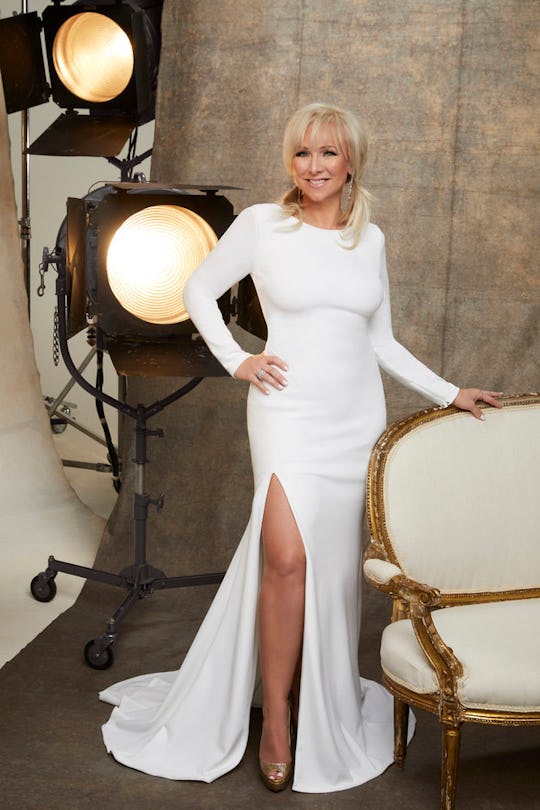 Rodolfo Martinez/Bravo
Margaret Josephs' Net Worth Proves She's A Skilled Entrepreneur
This season of The Real Housewives of New Jersey is going to be out of control. Not only is Danielle Staub returning, which would be enough excitement for most people, there's a new cast member joining the crew. Margaret Josephs is a 50-year-old founder and owner of a lifestyle and fashion brand called the Macbeth Collection. So what is Margaret Josephs' net worth and how will she fit in with the North Jersey set?
Josephs' net worth is hard to track down, but her company is pretty successful, sold at places like Walmart and Nordstrom Rack. In 2014, clothing company Vineyard Vines sued the entrepreneur for $12 million, according to legal documents obtained by In Touch Weekly. The company sued her and the Macbeth Collection for "trademark infringement." The judge ruled in favor of Vineyard Vines and Margaret was ordered to pay $300,000 in damages, although she allegedly has never paid the full amount.
Vineyard Vines' lawyer Todd Sharinn told In Touch, "Margaret didn't abide by the ruling. I've seen some of her banking records… she lives a pretty good life, obviously good enough to get on RHONJ." The litigation is still pending. So although the exact numbers of personal net worth aren't public, her company's are.
Josephs began her company after being a full-time stay at home mom when her son was born in 1996. She began her business when he was a toddler in 1998, by decorating trays and buckets that she bought from Home Depot and then reselling them to a local store.
When they started selling out really quickly, she began the Macbeth Collection. By 2002, she was bringing in $1 million in sales. Ten years later, Margaret was featured in a CNN Money report called "Moms Making Millions," and reported that her company was pulling in $30 million in annual sales.
She told CNN that the whole company began simply because her "home was cluttered all the time." At the very beginning, she even enlisted her neighborhood friends and nannies to help her decoupage the stock. Margaret said at the time that she was proud to juggle parenting and her own business, noting that her son called her the "Rock & Roll Martha Stewart."
With her business and fashion sensibilities, it's hard to tell whether she and Melissa, Teresa's sister-in-law and a boutique owner, will hit it off right away or compete with each other during this season. One thing we do know? Margaret and Siggy definitely fight right off the bat, judging from the trailer for the upcoming season. Siggy tells Theresa that she wants to rip Margaret's signature pigtails right out of her head.
After last year's fairly quiet season following Teresa's return home from prison and subsequent attitude adjustment, the New Jersey shenanigans are definitely making a strong comeback this season.
And Margaret will likely dive right in. She's a strong woman who describes herself as "Marge In Charge," according to her website. In an interview with NorthJersey.com, Margaret explained why she wanted to come on the show this season:
I think they've just had amazing people. You have Teresa, people are just in love with her. She's been an unbelievable force. But, more than that, I've always watched the show and I think it's really about family. And people relate to that all around the world. With my family, my husband is on the show, my ex-husband is on. And my mother, Marge, Sr. is on, too. I think people will love her. She's like Zsa Zsa Gabor. But my kids said no. They're serious people.
Her mother, by the way, also sports blonde pigtails on the regular. Andy Cohen himself is totally swooning over her, too, which you know means good things. He tweeted in August, "happy to see #RHONJ trending! It's a great season. And wait til you get a load of Margaret!"
With the return of Danielle Staub and the debut of Marge in Charge, this RHONJ season is bound to be a return to the good ol' days. If anything, Teresa is back to flipping furniture, so prepare yourselves. Hopefully, it's good for Margaret's business, too.
Watch Romper's new video series, Romper's Doula Diaries:
Check out the entire Romper's Doula Diaries series and other videos on Facebook and the Bustle app across Apple TV, Roku, and Amazon Fire TV.